black cumin seed oil, and sacha inchi oil.

Sacha Inchi Oil Sourced from: Peru
Black Seed Oil Sourced from: Turkey
Extra Virgin Olive Oil Sourced from: USA

No GMOs, No Preservatives, No Trans Fats, No Colors or Dyes. Packed in green glass bottle with easy pour spout.

Find A Recipe


Country of Origin: United States
Regular price
Sale price
$11.99 USD
Unit price
per
Sale
Sold out
Ingredients

Organic Extra Virgin Olive Oil, Organic Sacha Inchi Oil, Organic Black Cumin Seed Oil (Nigella sativa oil).
Frequently Asked Questions

What is a Best By Date?

A Best By Date is NOT an expiration date. A Best By Date serves as a "suggestion" for when a product will be of best flavor or quality.  It is not a purchase or safety date. We sell products past their Best By date for a minimal discount. This offers you savings on a product which is still safe and usable for a long time. Best By Dates on USDA.gov

Ghee Questions
General Questions
Order Related Questions
Shipping

READ OUR FULL SHIPPING POLICY HERE

CONTINENTAL USA
Orders over $125 qualify for a flat rate of $9.99. This applies to the Continental USA outside of Northeast region. This does not include Alaska or Hawaii.

ONLY NORTHEAST USA
Orders over $75 qualify for a flat rate of $5.99. This applies ONLY to the Northeastern part of the United States, including CT, DE, DC, ME, MD, MA, NH, NJ, NY, PA, RI, VT, VA.


WHAT IS YOUR HANDLING TIME?
Pure Indian Foods orders are processed, shipped, and delivered on business days: Monday-Friday (excluding weekends and major holidays). Please allow 2-4 business days for processing depending on product availability and order volume.

HOW LONG IS TRANSIT TIME
USA: On average, 5-10 business days.
Canada: On average, 6-10 business days, but sometimes longer to get through customs.
International: We do not have an estimated time for other countries.


INTERNATIONAL ORDERS:
International orders outside the USA may attract additional customs, taxes and duties upon entry to your country; this is the responsibility of the customer. If the package is refused by your country's customs department and it it sent back to us, the shipping cost will be non-refundable. Please be aware, there may be delays.

DO YOU OFFER LOCAL PICK UP?
We are online-only.
Return Policy

We want our customers to be satisfied with the quality of our products. If a product is damaged during shipping or you are unhappy with the product, simply let us know within 14 days after delivery, and we will try to resolve the situation to your satisfaction in a way that is fair to both parties. We are a small company and try to do our best for each situation. Please contact us if you have any questions prior to purchasing.

NOT SATISFIED?

If you receive the order and you are not satisfied with it, you can return the merchandise in original packaging within 14 days along with the receipt. Once we receive your package, we will refund the amount charged of the items returned. Unfortunately, we cannot refund the shipping costs, unless the product is damaged or defective.

ORDER REFUSED

If you refuse the order or if the carrier was not able to deliver it, we will give full refund less the shipping charges.

INCORRECT ADDRESS

If the shipping address that you supply is found to be incomplete or incorrect then you are responsible for the additional charges imposed by the shipping company for correcting the address.

RETURNED TO SENDER / UNDELIVERABLE

If we send you a shipment and it gets returned back to us as it was undeliverable to the address provided, we will refund the amount you had paid for the products only. Unfortunately, we cannot refund the shipping cost. We offer the option to reship the same order to an alternative address for an additional shipping fee.
View full details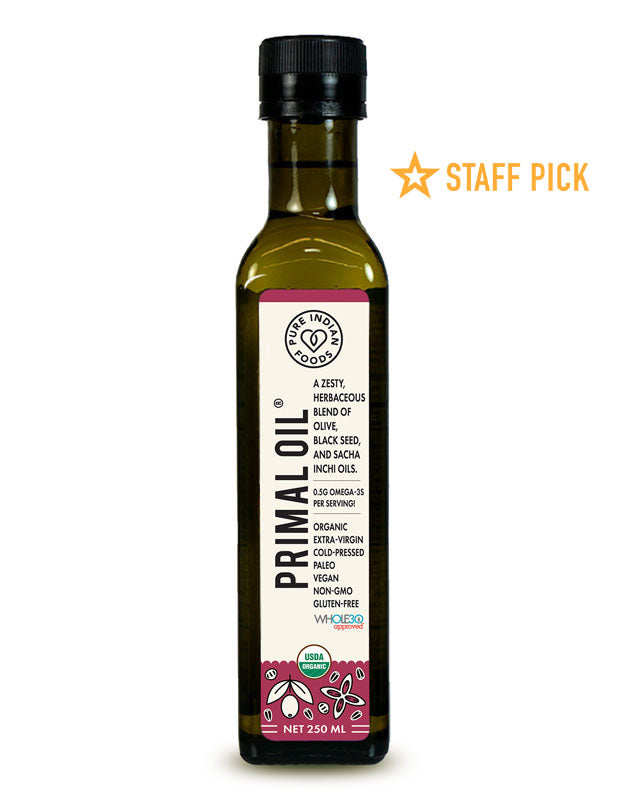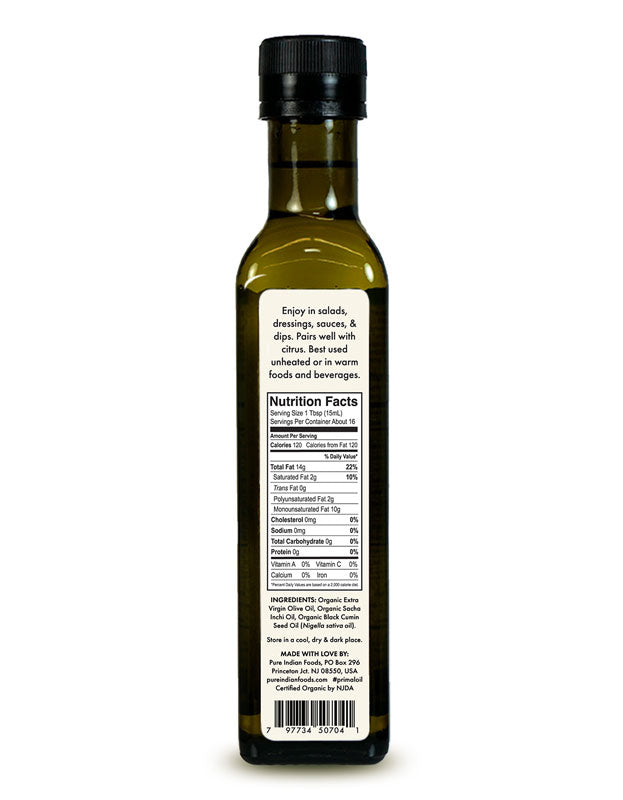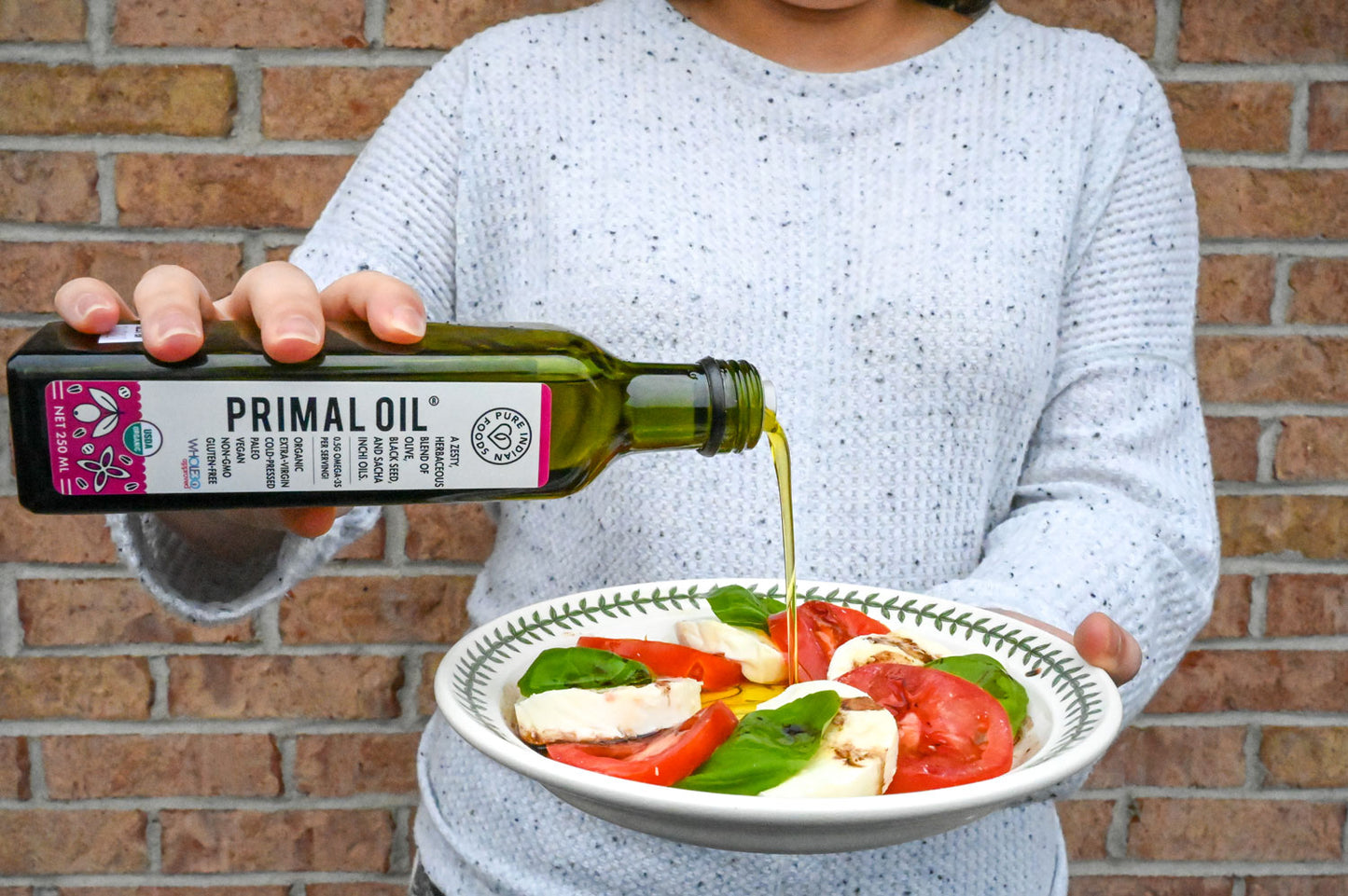 We've figured out how to pack the world's healthiest oils all in one bottle.
Introducing PRIMALOIL®,
an entirely delicious, perfectly blended mix of the highest quality, 100% pure lab-tested Organic Extra Virgin Olive Oil and two anti-oxidant super-powers,
Black Cumin Seed Oil
and
Sacha Inchi Oil
. Each serving of this luscious blend provides our bodies with a wide assortment of important nutrients and a great opportunity to create some delicious, easy recipes. Here's a closer look:
Extra Virgin Olive Oil
is both nutritious and delicious! It's packed with monounsaturated fat called Omega-9, plant antioxidants called polyphenols, and vitamin E compounds called tocopherols. It's likely the most popular part of the famous "Mediterranean Diet" loved by health professionals and good-food "foodies" all over the world. Olive oil is best used in its natural, uncooked state. We love it in salads, dips and dressing, and for drizzling over seriously mouth-watering sourdough or freshly baked whole grain bread.
Black Seed Oil,
although ancient in its uses, is truly a rising superstar. It's been studied extensively for its therapeutic and nutritional value, and was a favorite beauty aid for Cleopatra. On its own, it has quite a pungent bite, but when blended into our PRIMALOIL® it mellows a bit to become a palate-pleasing, easy way to get Black Cumin Seed Oil into your daily diet. It's got a kick, but just the right amount to pair perfectly with a variety of naturally bitter leafy greens, both raw and cooked.
Sourced from: Middle East, Africa, Asia.
Sacha Inchi Oil
was virtually unknown in the US until the nutritional profile of its seed propelled it into the category of a true "Super Food". It's a tropical fruit native to South America and the Windward Islands of the Caribbean. It has been cultivated and used as food for thousands of years in the Amazon. It contains tocopherols, phytosterols (found in healthy plant foods), and phenolic compounds (found in plants with antioxidant properties) as well as healthy fats. Each serving provides us with 500mg of important Omega-3. It's a beautiful, light golden oil that has a flavor similar to sesame or almond oil. We adore it blended into our PRIMALOIL® and drizzled over cooked grains and vegetables, or added to smoothies and a variety of salad dressings.
Sourced from: Peru.
No Hexane or any other solvents are used in the extraction process for any of our oils.
Customer Testimonials
"It is SO tasty, and you can feel the polyphenols because it burns in the most awesome way possible."
Dr. Sarah Ballantyne, PhD (@thepaleomom)
"One of my favorite products at PaleoFX this year! I've never had such a polyphenol spice at the end of an oil before."
Anthony Benedettini (@anthonyisbene)
"Polyphenols, a potential lactation booster, AND O-3! I'm loving Pure Indian Food's new Primal Oil!"
Liz Wolfe (@realfoodliz)
---
Leafy Greens and Artichokes with Aromatic Salad Dressing
8 cups leafy salad greens
Halved cherry tomatoes
1 can drained artichoke hearts, coarsely chopped
½ cup PRIMALOIL®
3 to 4 tablespoons balsamic or other favorite vinegar
Dijon mustard, to taste
1 teaspoon raw honey (optional)
1 clove finely minced garlic (optional
¼ teaspoon dried basil
1 tbsp minced fresh parsley
2 teaspoons minced red onion
Salt and pepper, to taste
In a salad bowl, mix salad greens, tomatoes and artichoke hearts. Set aside. Using a wire whisk, blend all remaining ingredients together to completely emulsify; spoon desired amount over the greens. Store the remaining in the refrigerator.
Sweet Potato Fries with Roasted Pecans
3 tablespoons PRIMALOIL®
1 tablespoon balsamic vinegar
2-3 teaspoons Sucanat or Coconut Palm Sugar
¼ teaspoon cinnamon, or to taste
4 medium sweet potatoes, cut into French-Fry shapes
1 tablespoon melted Grass-Fed Organic Ghee or Organic Coconut Ghee
Salt and pepper, to taste
½ cup chopped, roasted pecans
Preheat oven to 400 degrees F. Whisk together PRIMALOIL®, balsamic vinegar, Sucanat or coconut palm sugar, and cinnamon. Set aside. Toss cut sweet potatoes with melted ghee, salt and pepper. Transfer to a parchment-lined baking sheet. Bake for 30-45 minutes, or until tender. Remove from oven; drizzle with PRIMALOIL® and vinegar mixture. Sprinkle with roasted pecans.
Spicy Rice and Vegetables
1 cup dry basmati rice
1 tablespoon Organic Grass-Fed Ghee
¼ teaspoon ground coriander
1 cup chopped asparagus
1 cup small grape tomatoes
1 small yellow bell pepper, chopped
1 jalapeno pepper, seeded and thinly sliced
1 tablespoon PRIMALOIL®
Salt and freshly ground black pepper
Prepare rice with ghee and ground coriander according to package instructions. Once rice has cooked, turn off heat, add asparagus to the top, cover and let it sit for 5 minutes. Meanwhile, place tomatoes, yellow peppers and jalapeno in a serving dish. Add rice and asparagus. Stir in PRIMALOIL, salt and pepper.
Coleslaw with Carrots and Baby Kale
2 cups shredded cabbage
1 cup shredded purple cabbage
1 cup shredded carrots
1 cup chopped baby kale
¼ cup minced red onion
3 tablespoons red wine vinegar
3 tablespoons PRIMALOIL®
1-2 tablespoons raw honey
½ teaspoon dry mustard powder
Salt and freshly ground black pepper
Combine cabbage, purple cabbage, carrots, baby kale and red onion in a serving dish. Separately, whisk vinegar, PRIMALOIL, honey and mustard powder. Toss into cabbage mixture; season with salt and pepper.
More ideas for using PrimalOil®:
Stir into ricotta, cottage or cream cheese; add garlic and herbs like chives or parsley.
Blend with feta cheese, cherry tomatoes, chopped red onion and slivered basil; spread over bread or spoon over pasta, vegetables or grilled chicken.
Make delicious pesto: In a food processor, combine 2 cups fresh basil leaves, ½ cup walnuts or pine nuts, 1/3 cup PRIMALOIL®, 2 or 3 cloves chopped garlic, ½ cup grated parmesan or Romano cheese, and salt and pepper to taste. Pulse to combine.
Use PRIMALOIL® in a variety of salad dressings with lemon, lime, favorite vinegar, mustard, dried or fresh herbs, garlic and onion, etc.
Blend with fresh parsley or cilantro; drizzle or spread over roasted, steamed or sautéed vegetables.
Add to a green smoothie, or any favorite smoothie.
Blend with sour cream or Greek yogurt; stir into chicken or shrimp salad, or potato salad.
Drizzle over sliced tomatoes and cucumbers, fresh mozzarella cheese, olives and a sprinkling of fresh herbs like parsley, chives and basil.
Blend with softened butter and spread over toast, bagels, pancakes, waffles, biscuits and more.
Try it in tabouli.
Make a dip for bread: Combine 1/3 cup PRIMALOIL® with ¼ teaspoon dried basil, 1 teaspoon fresh, finely minced rosemary (or ¼ teaspoon dried), salt, and a pinch of cayenne pepper or red pepper flakes.
Combine cucumbers, bell peppers, tomatoes, and red onion; add lemon juice and PRIMALOIL®, salt and pepper.
Make hummus: In a blender or food processor, combine 1 can drained garbanzo beans (reserve ¼ cup liquid from can), 3-4 tablespoons lemon juice, 1-2 tablespoons tahini, 2 tablespoons PRIMALOIL®, chopped garlic and salt to taste. Blend to desired consistency, adding a little reserved liquid if needed.
---
NOW! In a 6 pack to-go size!

Buy on Amazon
Hi! I'm Sandeep.
I travel to India, Asia, South America, and Europe to bring you back some of the most pristine, pure, organic clean ingredients in the world. All the products you'll find here at Pure Indian Foods are ones that me and my family use personally.
My family has been making ghee since 1889. Today, my wife, Nalini (aka "The Ghee Lady"), carries on this tradition. She still makes all the ghee and tightens every jar by hand.

We are passionate about bringing you traditional and nourishing foods. It's our labor of love and service to human-kind. Thank you for supporting our small family business.
Blog posts
Many people ask us "what is the difference between ghee and cultured ghee"? The answer is actually very simple. Ghee is made from milk, and cultured ghee is made from...

Many people ask us "what is the difference between ghee and cultured ghee"? The answer is actually very simple. Ghee is made from milk, and cultured ghee is made from...