Deeply sweet Alphonso Mangoes lend this sauce a luscious, velvety-smooth texture and multi-layered sweetness to balance the heat of Organic Smoked Ghost Pepper. This hot sauce is more than just spicy, it's supremely decadent. This killer combo highlights each ingredient for sweet and tangy flavor that leaves you wanting more without being intensely hot.
HEAT LEVEL: MEDIUM (but it builds the more you eat)
A little goes a long way. For some of you, several drops will do the trick; for others, just a drop or two is all you need. Start small, and work your way up to what's right for you.
Refrigerate After Opening
Country of Origin: United States
Regular price
Sale price
$10.99 USD
Unit price
per
Sale
Sold out
Ingredients

Red bell peppers*, alphonso mango puree*, vinegar*, carrots*, garlic*, sea salt, ghost pepper*. *Certified organic
Nutritional info

Nutrition Facts Serv. Size 1 tsp (2.5g), Servings: About 119 Amount Per Serving: Calories 5, Calories from Fat 0. Total Fat 0g (0% DV), Saturated Fat 0g (0%), Cholesterol 0mg (0% DV), Sodium 20.2mg (1% DV), Total Carb. 1.2g (0% DV), Dietary Fiber 0g (0% DV), Sugars 0.1g, Protein 0g. Vitamin A 0%, Vitamin C 0%, Calcium 0%, Iron 0%. Percent Daily Values (DV) are based on a 2,000 calorie diet.
Frequently Asked Questions

What is a Best By Date?

A Best By Date is NOT an expiration date. A Best By Date serves as a "suggestion" for when a product will be of best flavor or quality.  It is not a purchase or safety date. We sell products past their Best By date for a minimal discount. This offers you savings on a product which is still safe and usable for a long time. Best By Dates on USDA.gov

Ghee Questions
General Questions
Order Related Questions
Shipping

READ OUR FULL SHIPPING POLICY HERE

CONTINENTAL USA
Orders over $125 qualify for a flat rate of $9.99. This applies to the Continental USA outside of Northeast region. This does not include Alaska or Hawaii.

ONLY NORTHEAST USA
Orders over $75 qualify for a flat rate of $5.99. This applies ONLY to the Northeastern part of the United States, including CT, DE, DC, ME, MD, MA, NH, NJ, NY, PA, RI, VT, VA.


WHAT IS YOUR HANDLING TIME?
Pure Indian Foods orders are processed, shipped, and delivered on business days: Monday-Friday (excluding weekends and major holidays). Please allow 2-4 business days for processing depending on product availability and order volume.

HOW LONG IS TRANSIT TIME
USA: On average, 5-10 business days.
Canada: On average, 6-10 business days, but sometimes longer to get through customs.
International: We do not have an estimated time for other countries.


INTERNATIONAL ORDERS:
International orders outside the USA may attract additional customs, taxes and duties upon entry to your country; this is the responsibility of the customer. If the package is refused by your country's customs department and it it sent back to us, the shipping cost will be non-refundable. Please be aware, there may be delays.

DO YOU OFFER LOCAL PICK UP?
We are online-only.
Return Policy

We want our customers to be satisfied with the quality of our products. If a product is damaged during shipping or you are unhappy with the product, simply let us know within 14 days after delivery, and we will try to resolve the situation to your satisfaction in a way that is fair to both parties. We are a small company and try to do our best for each situation. Please contact us if you have any questions prior to purchasing.

NOT SATISFIED?

If you receive the order and you are not satisfied with it, you can return the merchandise in original packaging within 14 days along with the receipt. Once we receive your package, we will refund the amount charged of the items returned. Unfortunately, we cannot refund the shipping costs, unless the product is damaged or defective.

ORDER REFUSED

If you refuse the order or if the carrier was not able to deliver it, we will give full refund less the shipping charges.

INCORRECT ADDRESS

If the shipping address that you supply is found to be incomplete or incorrect then you are responsible for the additional charges imposed by the shipping company for correcting the address.

RETURNED TO SENDER / UNDELIVERABLE

If we send you a shipment and it gets returned back to us as it was undeliverable to the address provided, we will refund the amount you had paid for the products only. Unfortunately, we cannot refund the shipping cost. We offer the option to reship the same order to an alternative address for an additional shipping fee.
View full details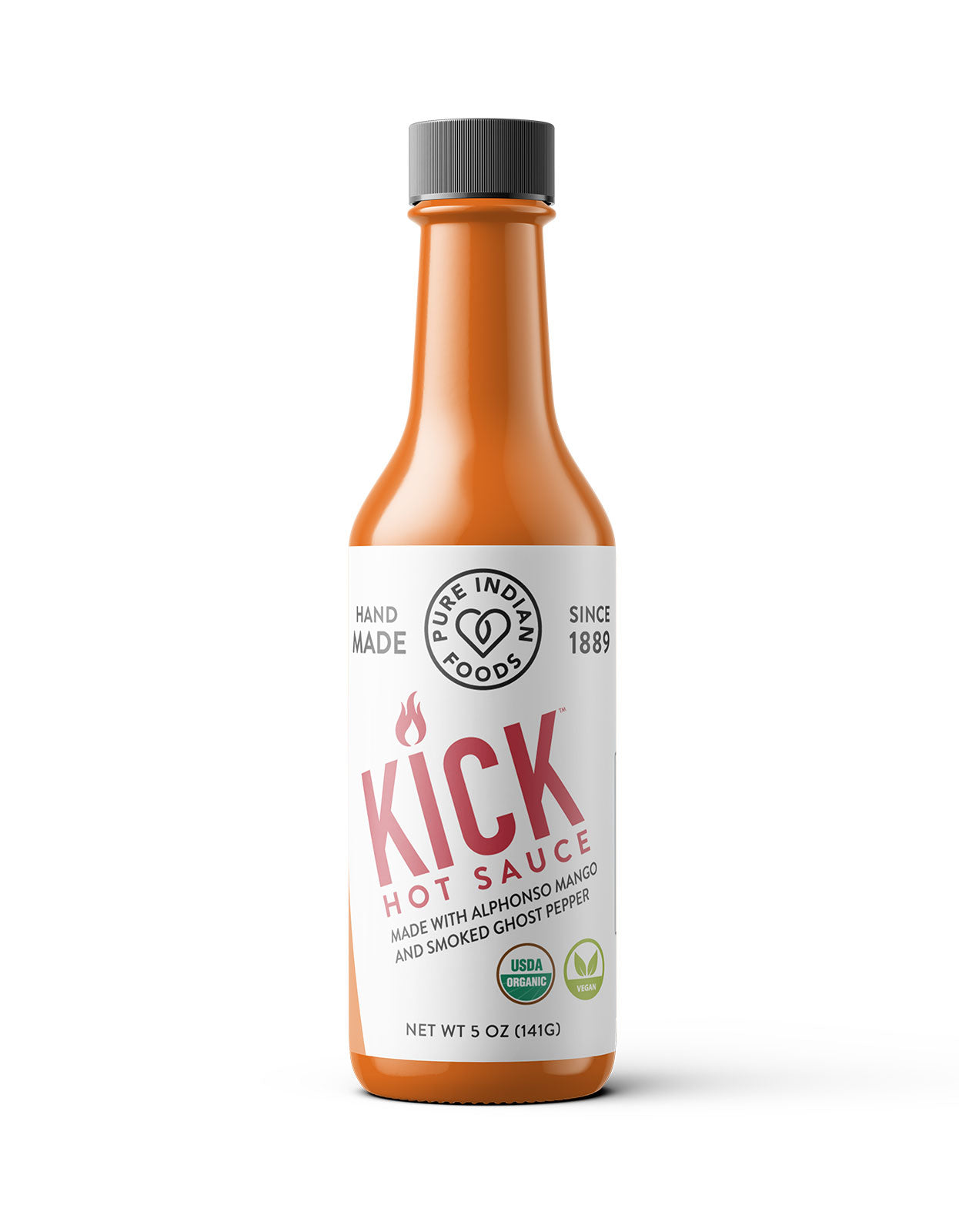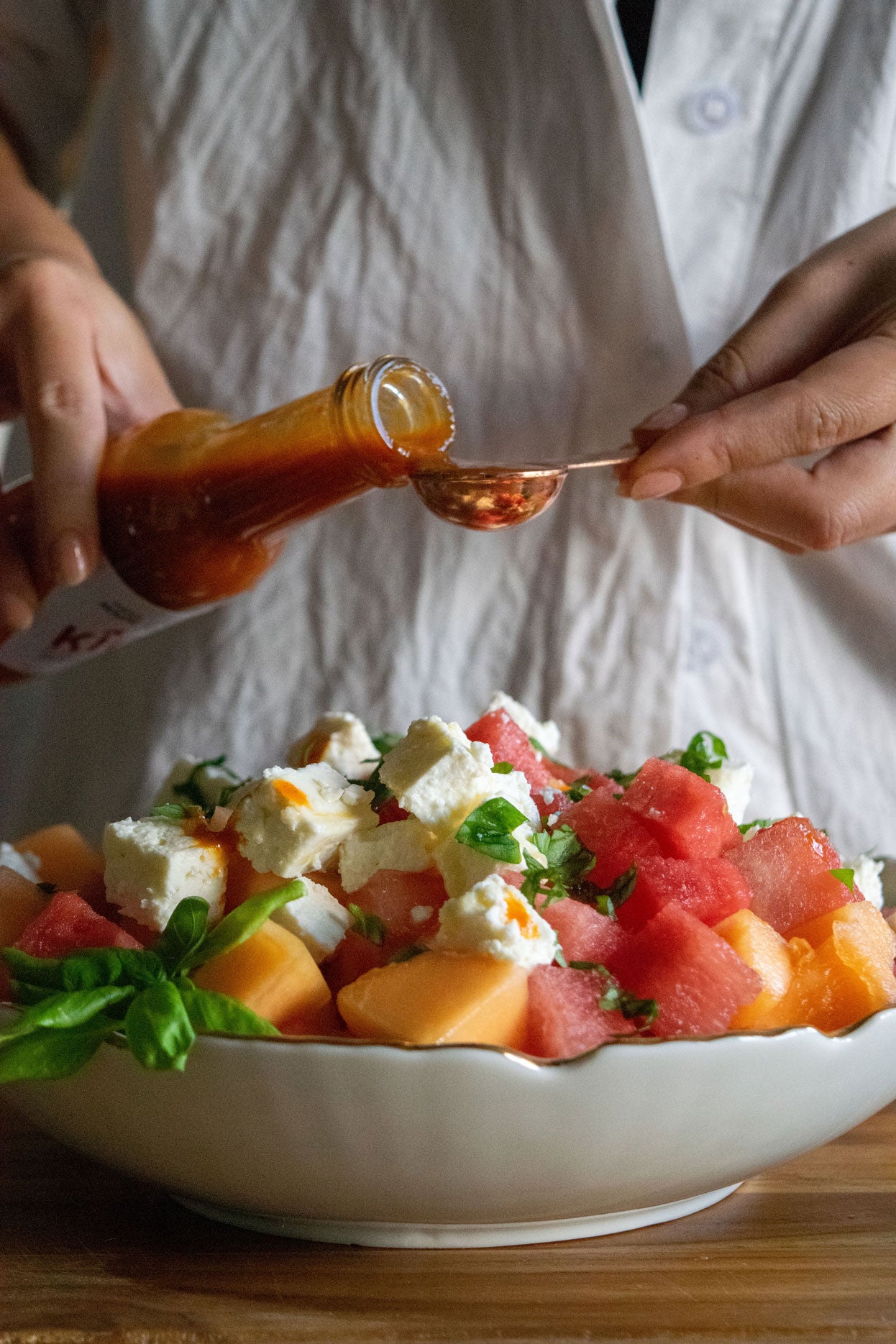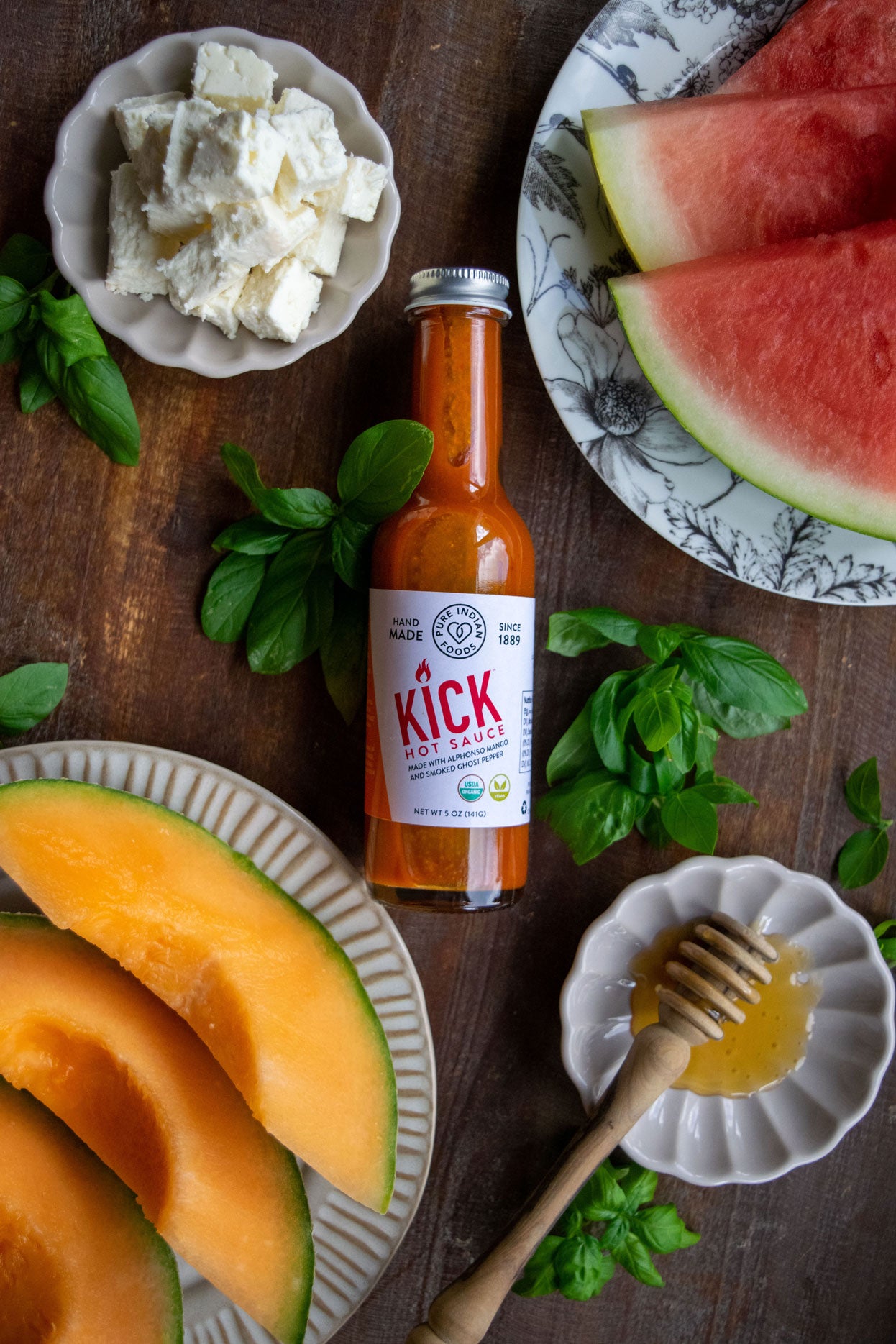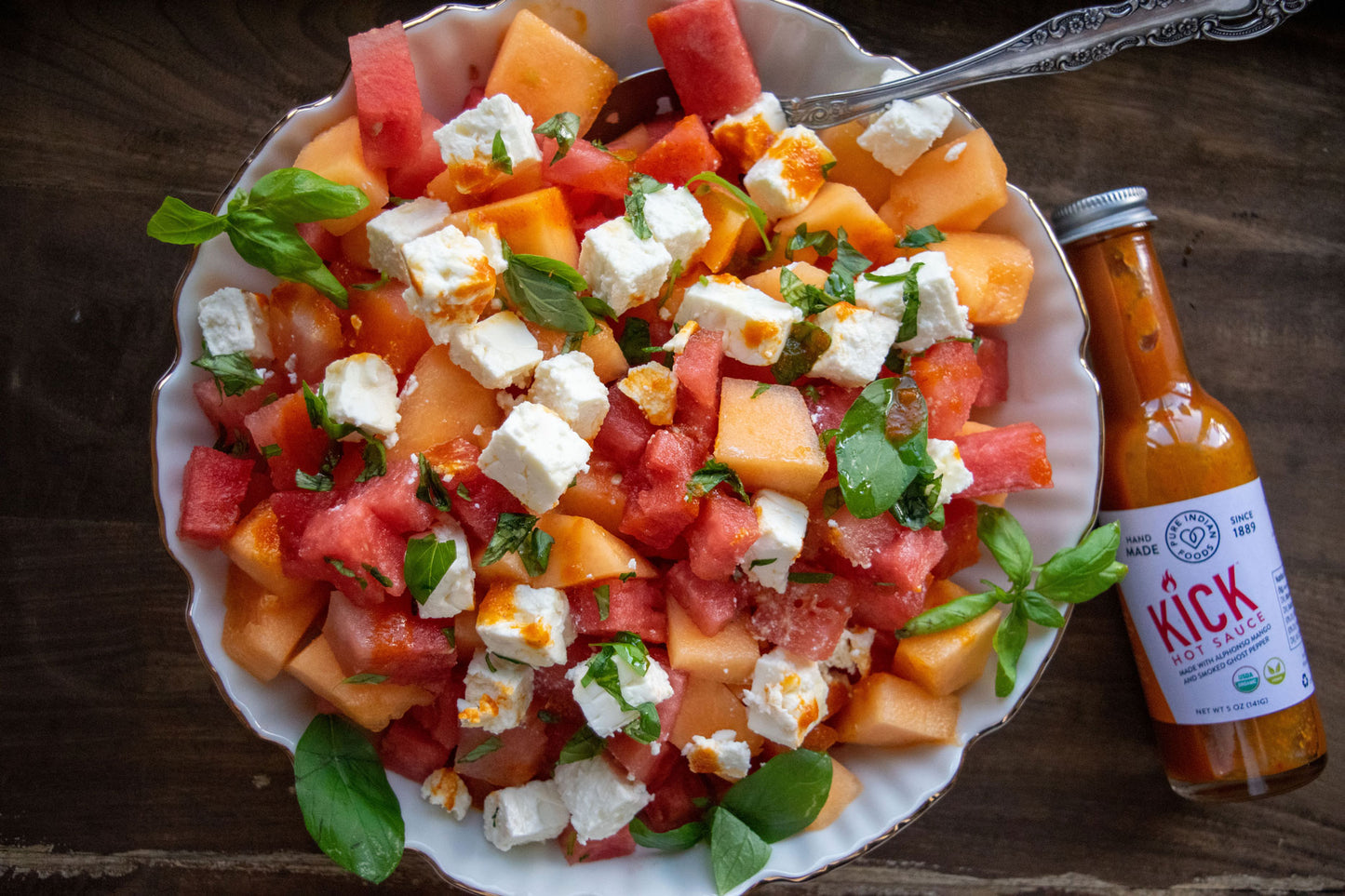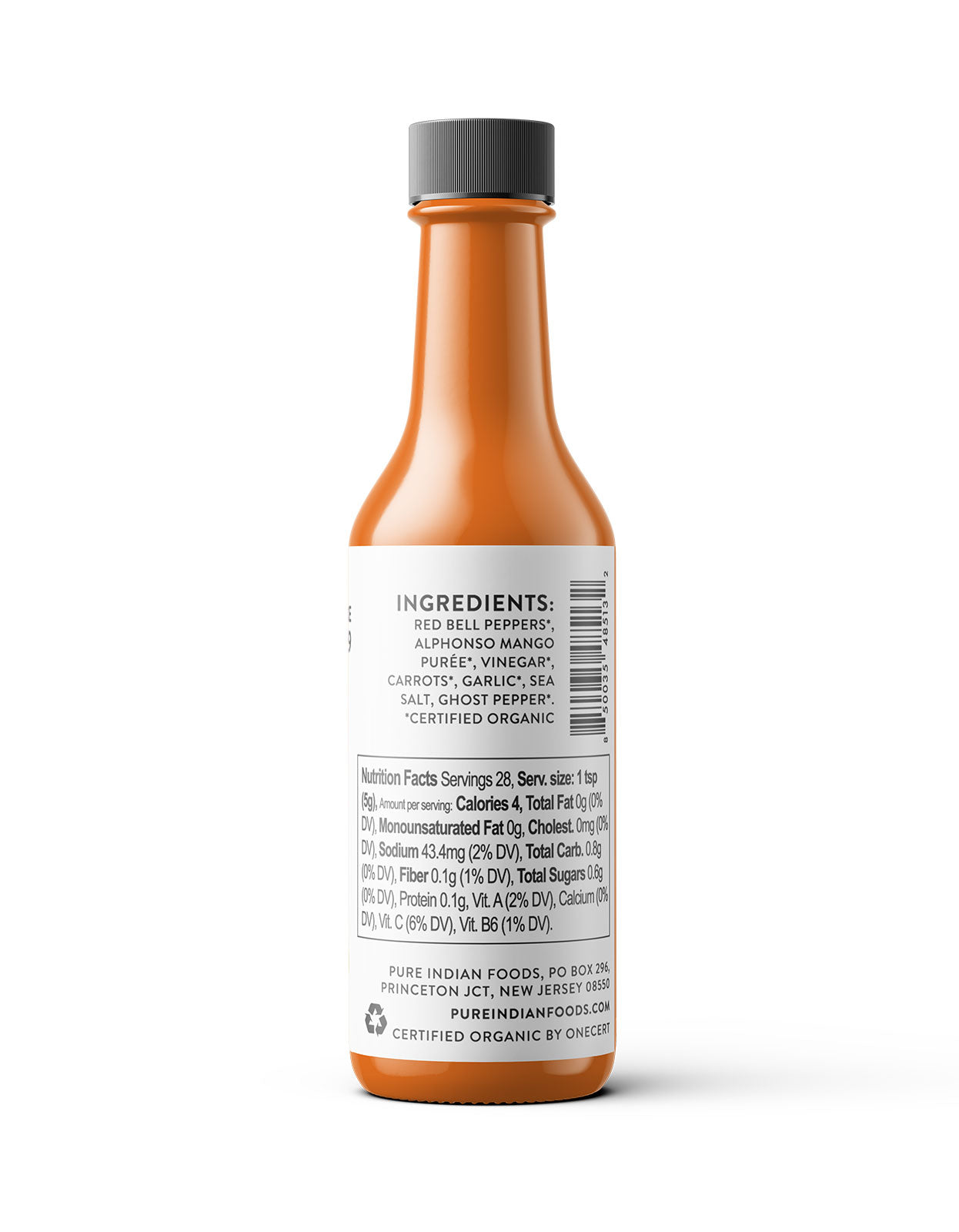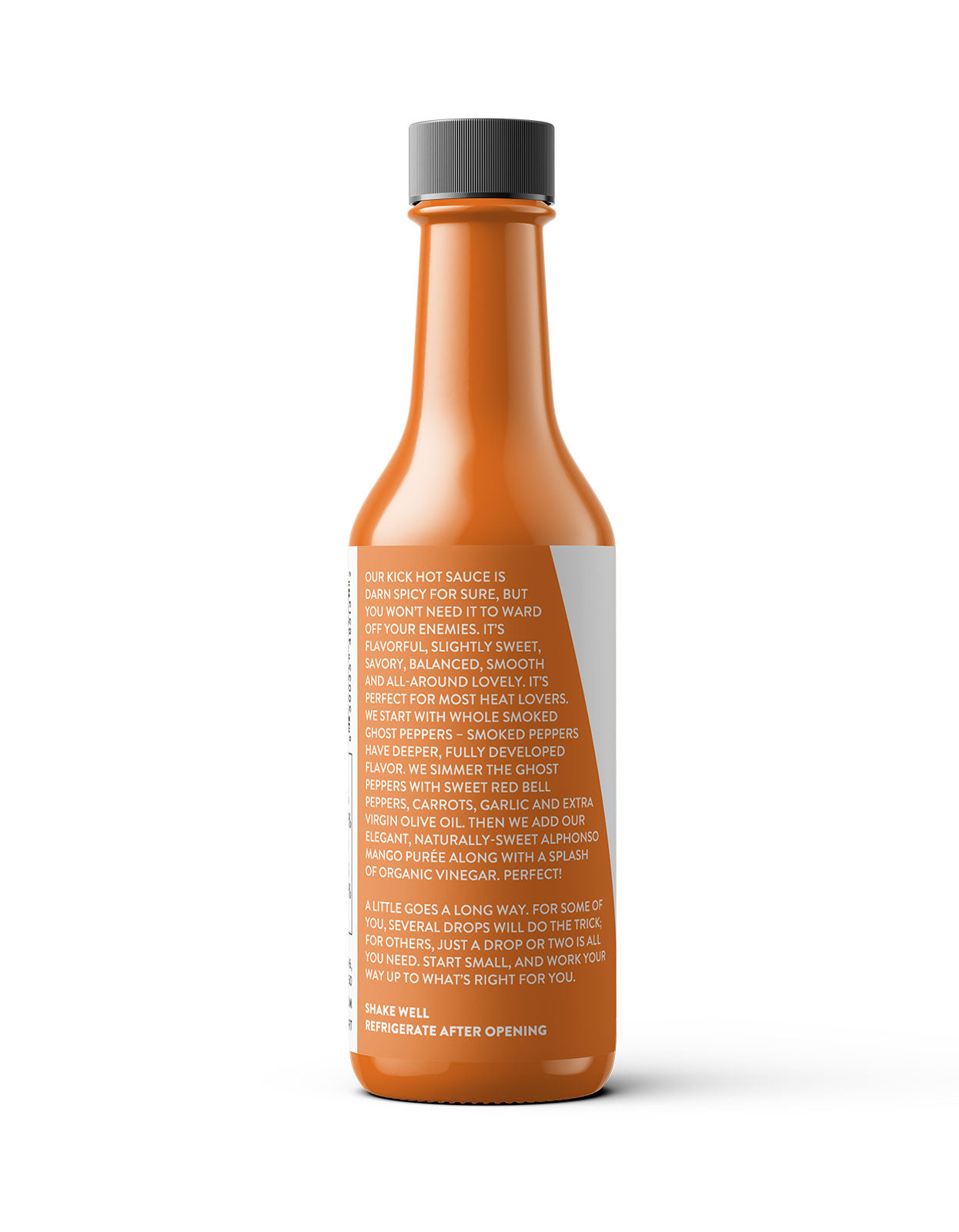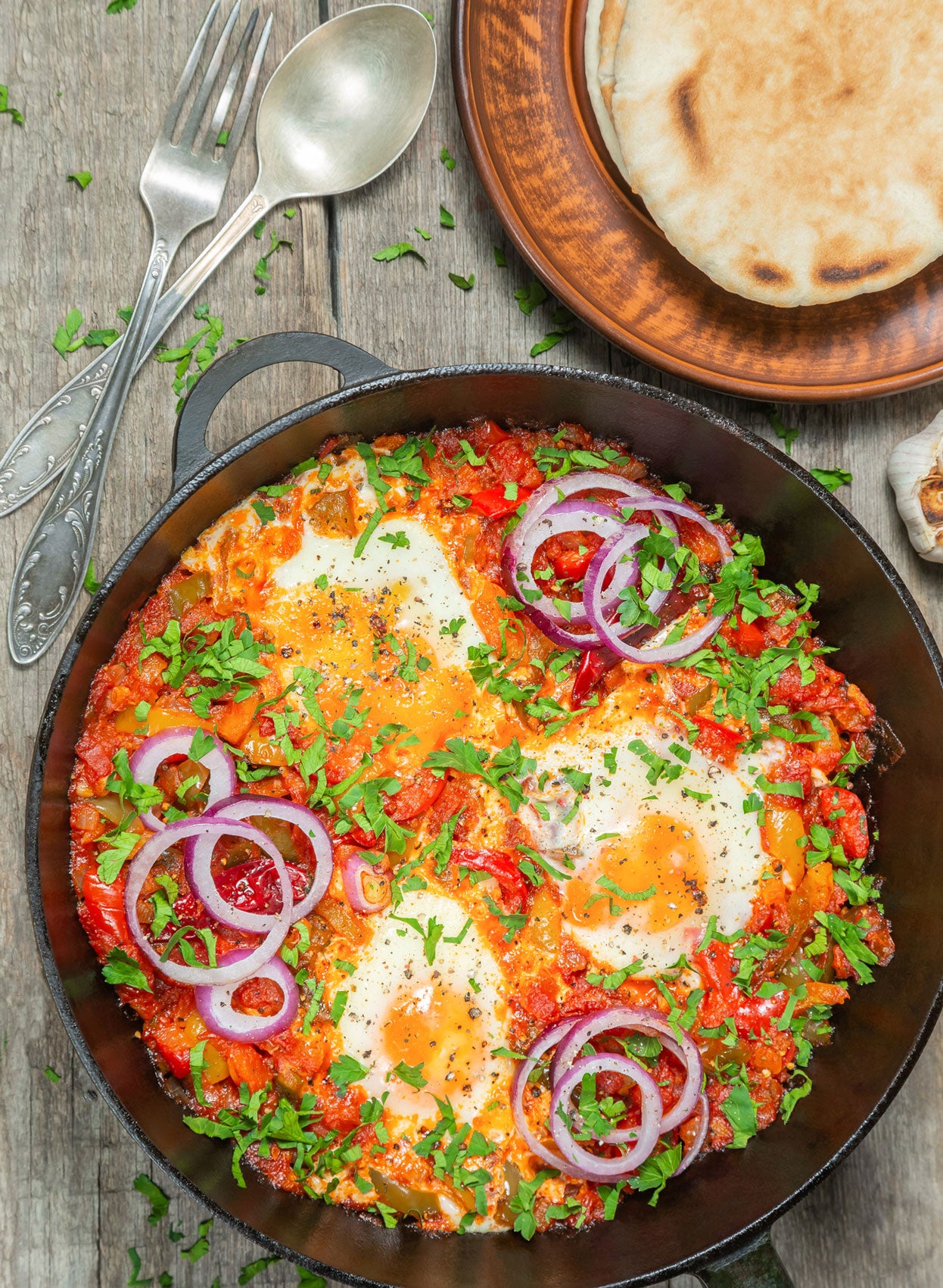 Hot sauce is ancient food. Historians believe it was created sometime around 7000 BC. That's how long people have been craving spicy, flavorful hot sauce. Or at least, that's when the Aztecs did something about it! They combined chili peppers with water and brilliantly used it for whatever they could, from food to medicine. They even used it as a weapon in war; chili peppers can be serious business!
In fact, chili pepper fans already know that ghost peppers are among the hottest chili peppers in the world, topping more than 1 million Scoville units of SERIOUS heat! These not-so-innocent North Indian beauties can either light your fire or flat-out make you cry. Or both. But whether you're one of those people who can really take the heat or someone who wants just a little heat at just the right time and in just the right amount, then we've got you covered with KICK HOT SAUCE – our fiery, mango-sweet-and-savory smoked ghost pepper hot sauce. 
Our KICK Hot Sauce is darn spicy for sure, but you won't need it to ward off your enemies. It's flavorful, slightly sweet, savory, balanced, smooth and all-around lovely. It's perfect for medium to extreme heat lovers. We start with whole smoked ghost peppers – smoked peppers have deeper, fully developed flavor. We simmer the peppers with sweet red bell peppers, carrots, garlic and extra virgin olive oil. Then we add our elegant, naturally sweet Alphonso Mango Purée along with a splash of organic vinegar. Perfect!
A little goes a long way. For some of you, several drops will do the trick; for others, just a drop of two is all you need. Start small; work your way up to what's right for you. Try a drop or more with the following:
Scrambled eggs and deviled eggs
Bean dip / Smoked salmon dip / French onion dip / Any favorite dip
Hummus and guacamole
Ketchup, mustard, mayonnaise or chipotle chili mayonnaise (to kick 'em up a notch or two)
Bloody Marys!!
Pesto, pizza and pasta sauces (great with marinara and meat sauces)
Fruit salad dressing to make a fired-up fruit salad
Melted ghee – perfect to drizzle over popcorn, vegetables, grains, beans and meats. Delicious with saffron and spices basted over roasted chicken
Cheese sauce and grilled cheese sandwiches
Make a dipping sauce from mayo, soy sauce, sesame oil, ketchup, and hot sauce.
Stir fries and sauteed vegetables
Soups (vegetable, bean/lentil, miso, chicken, Thai coconut, etc.) and chili
Brines and marinades for meats and tofu
Sauteed or simmered greens (spinach, chard, collards, etc.)
Fish, shrimp, scallops, oysters, mussels, etc.
Salad dressing (just one drop should do the trick)
Lentils and Beans
Indian food / Mexican Food / Moroccan Food / African Food / Any Food
Ingredients
Organic Red Bell Peppers, Organic Alphonso Mango Purée, Organic Vinegar, Organic Carrots, Organic Garlic, Sea Salt, Organic Smoked Ghost Pepper.
Hi! I'm Sandeep.
I travel to India, Asia, South America, and Europe to bring you back some of the most pristine, pure, organic clean ingredients in the world. All the products you'll find here at Pure Indian Foods are ones that me and my family use personally.
My family has been making ghee since 1889. Today, my wife, Nalini (aka "The Ghee Lady"), carries on this tradition. She still makes all the ghee and tightens every jar by hand.

We are passionate about bringing you traditional and nourishing foods. It's our labor of love and service to human-kind. Thank you for supporting our small family business.
Blog posts
Many people ask us "what is the difference between ghee and cultured ghee"? The answer is actually very simple. Ghee is made from milk, and cultured ghee is made from...

Many people ask us "what is the difference between ghee and cultured ghee"? The answer is actually very simple. Ghee is made from milk, and cultured ghee is made from...