Nigella sativa plant. It is sometimes called Black Cumin Seed, although it is not related to the cumin spice. Read more here and here.

Sourced from Turkey

No GMOs, No Preservatives, No Trans Fats, No Colors or Dyes. The one and only ingredient is Organic Black Seed Oil, with absolutely nothing else added to it. Packed in green glass bottle with easy pour spout.


Check Out Our Other Black Seed Products:
Buy on Amazon⠀Find A Recipe



Regular price

$18.99 USD

Sale price

$17.99 USD

Unit price

per

Sale

Sold out

Country of Origin: Turkey
Ingredients

Organic Black Seed Oil. Note: We do not measure our Black Seed Oil for Thymoquinone (TQ) content. To accurately advertise % of Thymoquinone (TQ), we would have to test every batch of our Black Seed Oil. Such a testing is cost-prohibitive for us. We sell it as a food, and not as a supplement that may have a standardized quantity of TQ or other such components. In one testing that we had conducted, our product was found to have 0.86% TQ. However, TQ amount may vary from batch to batch. We carry a different product called Black Seed Oil Extract which contains 6-7% TQ.
Nutritional info

Nutrition Facts Serv. Size 1 tsp (5mL), Servings: About 50. Amount Per Serving: Calories 45, Calories from Fat 45. Total Fat 5g (8% DV), Saturated Fat 1g (5% DV), Trans Fat 0g (0% DV), Polyunsaturated Fat 0g, Monounsaturated Fat 0g. Cholesterol 0mg (0% DV). Sodium 0mg (0% DV). Total Carb. 0g (0% DV), Protein 0g. Vitamin A 0%, Vitamin C 0%, Calcium 0%, Iron 0%. Percent Daily Values (DV) are based on a 2,000 calorie diet.
Frequently Asked Questions

What is a Best By Date?

A Best By Date is NOT an expiration date. A Best By Date serves as a "suggestion" for when a product will be of best flavor or quality.  It is not a purchase or safety date. We sell products past their Best By date for a minimal discount. This offers you savings on a product which is still safe and usable for a long time. Best By Dates on USDA.gov

Ghee Questions
General Questions
Order Related Questions
Shipping

READ OUR FULL SHIPPING POLICY HERE

CONTINENTAL USA
Orders over $125 qualify for a flat rate of $9.99. This applies to the Continental USA outside of Northeast region. This does not include Alaska or Hawaii.

ONLY NORTHEAST USA
Orders over $75 qualify for a flat rate of $5.99. This applies ONLY to the Northeastern part of the United States, including CT, DE, DC, ME, MD, MA, NH, NJ, NY, PA, RI, VT, VA.


WHAT IS YOUR HANDLING TIME?
Pure Indian Foods orders are processed, shipped, and delivered on business days: Monday-Friday (excluding weekends and major holidays). Please allow 2-4 business days for processing depending on product availability and order volume.

HOW LONG IS TRANSIT TIME
USA: On average, 5-10 business days.
Canada: On average, 6-10 business days, but sometimes longer to get through customs.
International: We do not have an estimated time for other countries.


INTERNATIONAL ORDERS:
International orders outside the USA may attract additional customs, taxes and duties upon entry to your country; this is the responsibility of the customer. If the package is refused by your country's customs department and it it sent back to us, the shipping cost will be non-refundable. Please be aware, there may be delays.

DO YOU OFFER LOCAL PICK UP?
We are online-only.
Return Policy

We want our customers to be satisfied with the quality of our products. If a product is damaged during shipping or you are unhappy with the product, simply let us know within 14 days after delivery, and we will try to resolve the situation to your satisfaction in a way that is fair to both parties. We are a small company and try to do our best for each situation. Please contact us if you have any questions prior to purchasing.

NOT SATISFIED?

If you receive the order and you are not satisfied with it, you can return the merchandise in original packaging within 14 days along with the receipt. Once we receive your package, we will refund the amount charged of the items returned. Unfortunately, we cannot refund the shipping costs, unless the product is damaged or defective.

ORDER REFUSED

If you refuse the order or if the carrier was not able to deliver it, we will give full refund less the shipping charges.

INCORRECT ADDRESS

If the shipping address that you supply is found to be incomplete or incorrect then you are responsible for the additional charges imposed by the shipping company for correcting the address.

RETURNED TO SENDER / UNDELIVERABLE

If we send you a shipment and it gets returned back to us as it was undeliverable to the address provided, we will refund the amount you had paid for the products only. Unfortunately, we cannot refund the shipping cost. We offer the option to reship the same order to an alternative address for an additional shipping fee.
View full details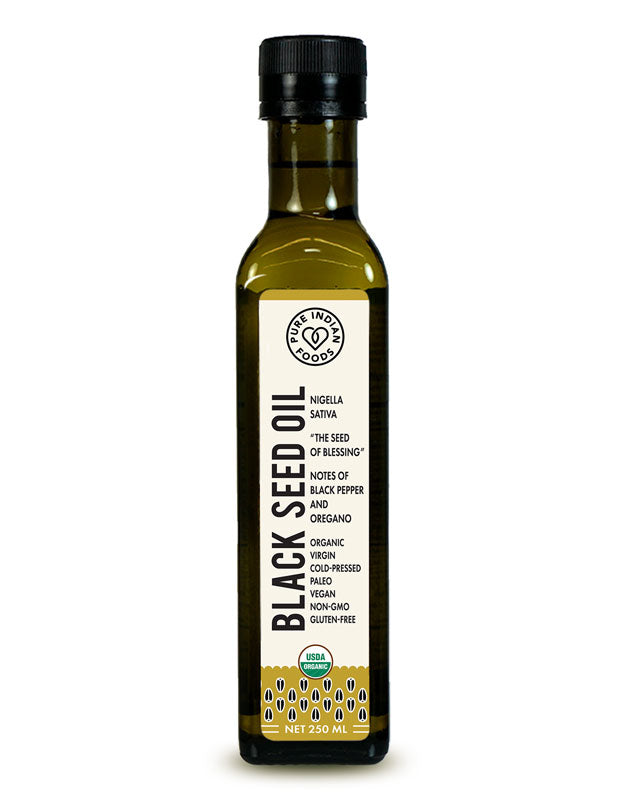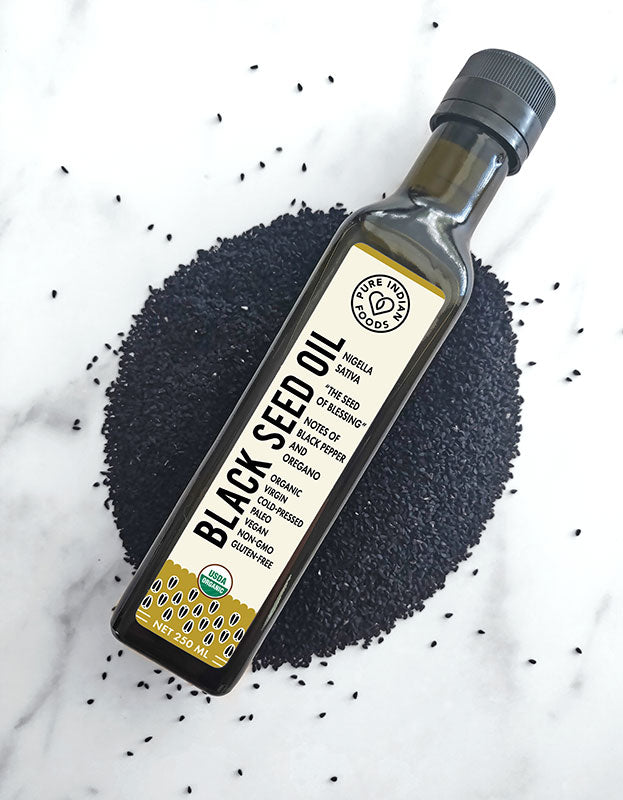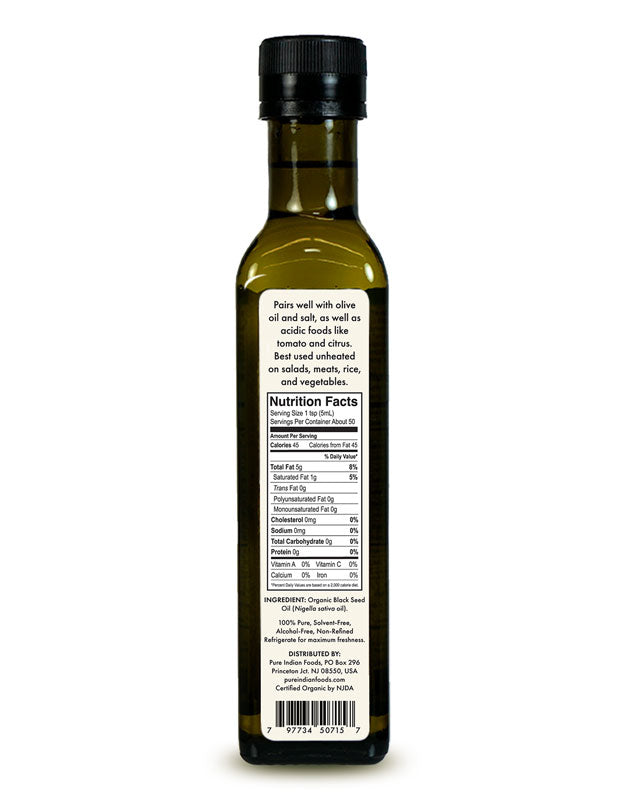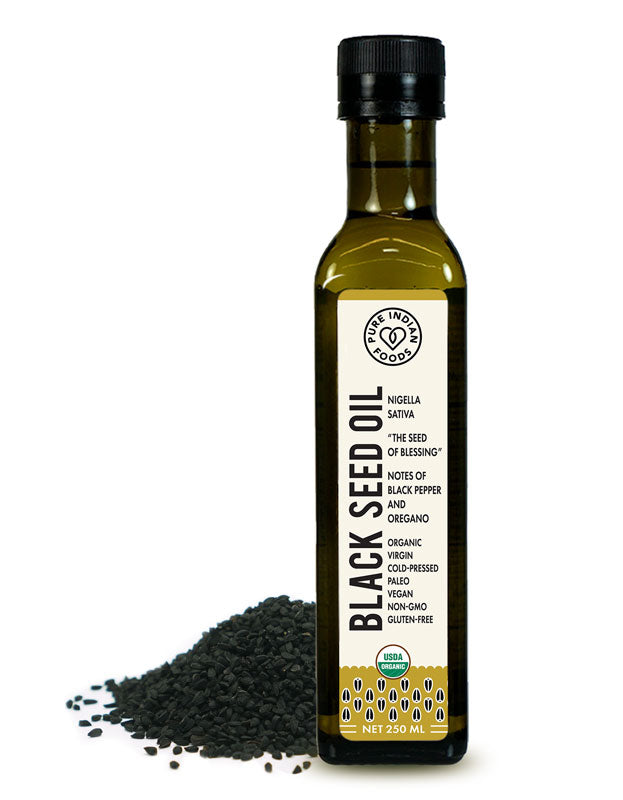 The flower of the Nigella sativa plant
The seed of the Nigella sativa plant
---
Black Seeds (also know as Black Cumin Seed, or Nigella sativa, or Kalonji) originated in southern Asia, southern Europe and North America, and have been used for centuries to promote health. With a taste and aroma reminiscent of black pepper, onions and oregano, pure black seed oil is ideal for use in Indian and Middle Eastern cuisines where it adds a delicate peppery flavor to such favorites as curries, soups, and vegetable and meat dishes. Black seed is known as "Habbat al Barakah" which means "the blessed seed", called hubbath-us-sauda in Arabic.
Pure Indian Foods Organic Black Seed Oil is USDA Certified Organic, non-GMO, virgin, unrefined, and 100% pure. It is completely free of chemical solvents, added colors and dyes, flavor enhancers, adulterants, MSG and preservatives.
It is cold-press extracted from small, oblong black seeds in order to preserve its natural health benefits. No Hexane or any other solvents are used in the extraction process.
The gentle extraction process ensures that this pure black seed oil maintains its:
Natural antioxidants
Healthy fatty acids
Trace minerals
Plant sterols
If you want to purchase the best quality, nutrient-packed black seed oil, trust Pure Indian Foods for the highest quality certified organic oils.
Also known as: Nigella sativa, Black Cumin Seed, نيجيلا ساتيفا, black onion seed, onion seed, love-in-a-mist, nigelline, nigellone, black cumin, upakunchika, black jeera, black zeera, charnushka, نگیلا ستا, નિગેલા સતિવા, ኒጂላ ስቲቫ, Çörek otu, Shuniz (Arabic); Cumin Noire (French); Melanthion (Greek); Kalonji (Hindi); Siya Danah, Sisazun (Persian); Chimen Negru (Romanian); Krishna Jiraka (Sanskrit); Shuniz (Arabic); Melanthion (Greek); Kalonji (Hindi); Siya Danah, Sisazun (Persian); Chimen Negru (Romanian); Krishna Jiraka (Sanskrit); Comino Negro, Caraveggia negra (Spanish); English Names: Black Seed, Black Cumin, Black Caraway, Love-in-the-Mist, the Fitches (Bible), Comino Negro, Caraveggia negra (Spanish); English Names: Black Seed, Black Cumin, Black Caraway, Love-in-the-Mist, the Fitches (Bible).
There is a lot of confusion about black seed out there on the internet.
The issue is that there are a lot of black-colored seeds!
Don't be confused. Avoid black seed confusion by learning more about black seed here.
Ways to use black seed oil...
Massage into scalp
Blend into green smoothie
Drizzle into curries and lentils
Excellent on roasted root vegetables
Drizzle over hummus
Mix with extra virgin olive oil and toss into freshly steamed vegetables
Stir into roasted eggplant dip
Add a teaspoon to yogurt-cucumber raita or tzatziki sauce
Add a bit to your favorite vinaigrette salad dressing
Toss a spoonful into bean salads
Ingredient:
Organic Black Seed Oil (Nigella sativa oil).
Hi! I'm Sandeep.
I travel to India, Asia, South America, and Europe to bring you back some of the most pristine, pure, organic clean ingredients in the world. All the products you'll find here at Pure Indian Foods are ones that me and my family use personally.
My family has been making ghee since 1889. Today, my wife, Nalini (aka "The Ghee Lady"), carries on this tradition. She still makes all the ghee and tightens every jar by hand.

We are passionate about bringing you traditional and nourishing foods. It's our labor of love and service to human-kind. Thank you for supporting our small family business.
Blog posts
Many people ask us "what is the difference between ghee and cultured ghee"? The answer is actually very simple. Ghee is made from milk, and cultured ghee is made from...

Many people ask us "what is the difference between ghee and cultured ghee"? The answer is actually very simple. Ghee is made from milk, and cultured ghee is made from...