Batch Tested For:
Our Grassfed Organic Cultured Ghee is made using the Bilona method from the milk of pastured cows, fed on fresh green grass in spring thru fall. The only ingredients are milk and cultures, with absolutely nothing else added to it. Batch-tested Gluten-Free. Lactose batch-tested to contain no more than 0.25%. Casein and whey batch-tested to be 2.5 ppm or less.
NO...GMOs, Added Salt, Preservatives, Trans Fats, Colors or Dyes, No MSG, No Flavor Enhancers.
Packed in Glass
Country of Origin: United States
Regular price
Sale price
$21.99 USD
Unit price
per
Sale
Sold out
Ingredients

Grassfed Organic Cultured Butter (made from non-homogenized whole milk from grassfed cows). Contains: Milk
Nutritional info
Frequently Asked Questions

What is a Best By Date?

A Best By Date is NOT an expiration date. A Best By Date serves as a "suggestion" for when a product will be of best flavor or quality.  It is not a purchase or safety date. We sell products past their Best By date for a minimal discount. This offers you savings on a product which is still safe and usable for a long time. Best By Dates on USDA.gov

Ghee Questions
General Questions
Order Related Questions
Shipping

READ OUR FULL SHIPPING POLICY HERE

CONTINENTAL USA
Orders over $125 qualify for a flat rate of $9.99. This applies to the Continental USA outside of Northeast region. This does not include Alaska or Hawaii.

ONLY NORTHEAST USA
Orders over $75 qualify for a flat rate of $5.99. This applies ONLY to the Northeastern part of the United States, including CT, DE, DC, ME, MD, MA, NH, NJ, NY, PA, RI, VT, VA.


WHAT IS YOUR HANDLING TIME?
Pure Indian Foods orders are processed, shipped, and delivered on business days: Monday-Friday (excluding weekends and major holidays). Please allow 2-4 business days for processing depending on product availability and order volume.

HOW LONG IS TRANSIT TIME
USA: On average, 5-10 business days.
Canada: On average, 6-10 business days, but sometimes longer to get through customs.
International: We do not have an estimated time for other countries.


INTERNATIONAL ORDERS:
International orders outside the USA may attract additional customs, taxes and duties upon entry to your country; this is the responsibility of the customer. If the package is refused by your country's customs department and it it sent back to us, the shipping cost will be non-refundable. Please be aware, there may be delays.

DO YOU OFFER LOCAL PICK UP?
We are online-only.
Return Policy

We want our customers to be satisfied with the quality of our products. If a product is damaged during shipping or you are unhappy with the product, simply let us know within 14 days after delivery, and we will try to resolve the situation to your satisfaction in a way that is fair to both parties. We are a small company and try to do our best for each situation. Please contact us if you have any questions prior to purchasing.

NOT SATISFIED?

If you receive the order and you are not satisfied with it, you can return the merchandise in original packaging within 14 days along with the receipt. Once we receive your package, we will refund the amount charged of the items returned. Unfortunately, we cannot refund the shipping costs, unless the product is damaged or defective.

ORDER REFUSED

If you refuse the order or if the carrier was not able to deliver it, we will give full refund less the shipping charges.

INCORRECT ADDRESS

If the shipping address that you supply is found to be incomplete or incorrect then you are responsible for the additional charges imposed by the shipping company for correcting the address.

RETURNED TO SENDER / UNDELIVERABLE

If we send you a shipment and it gets returned back to us as it was undeliverable to the address provided, we will refund the amount you had paid for the products only. Unfortunately, we cannot refund the shipping cost. We offer the option to reship the same order to an alternative address for an additional shipping fee.
View full details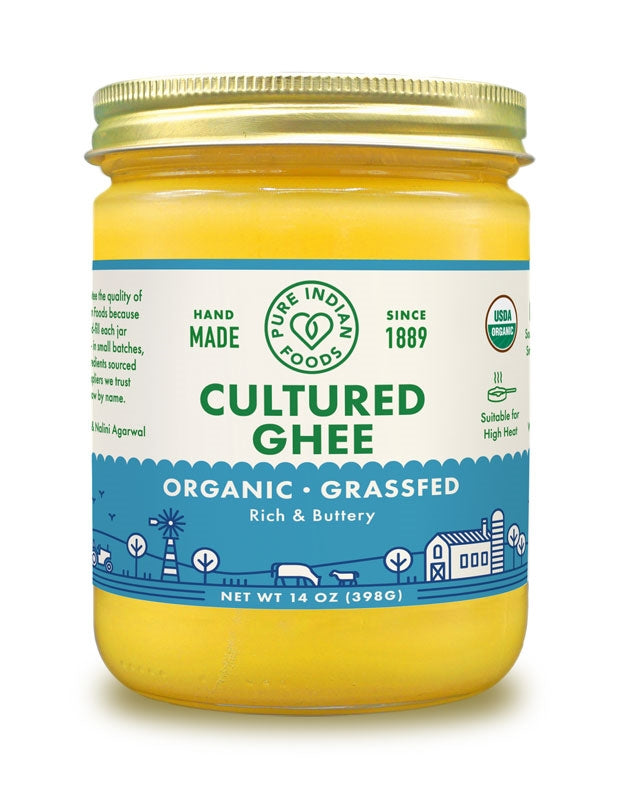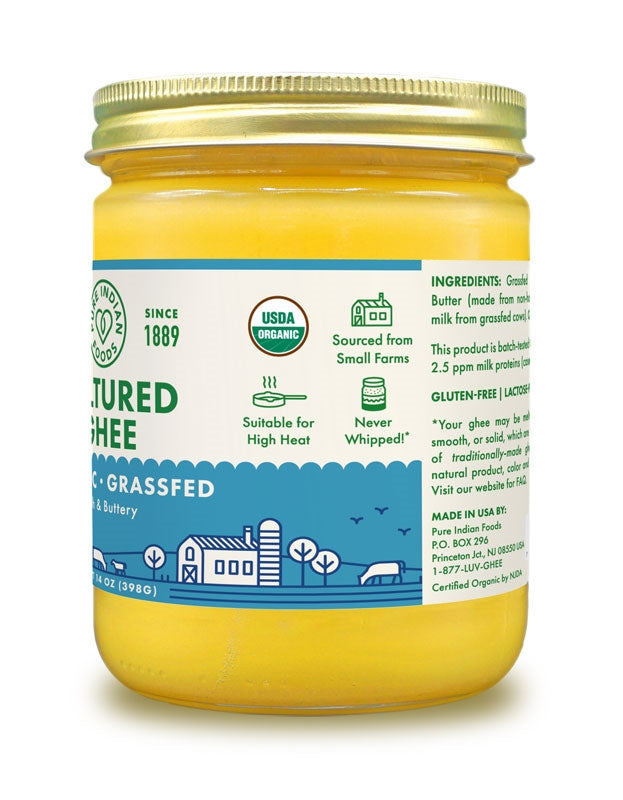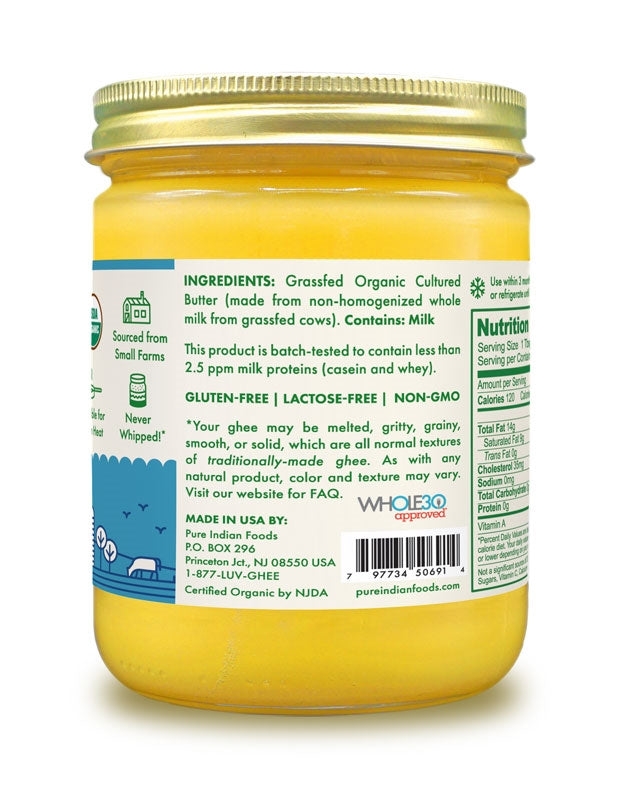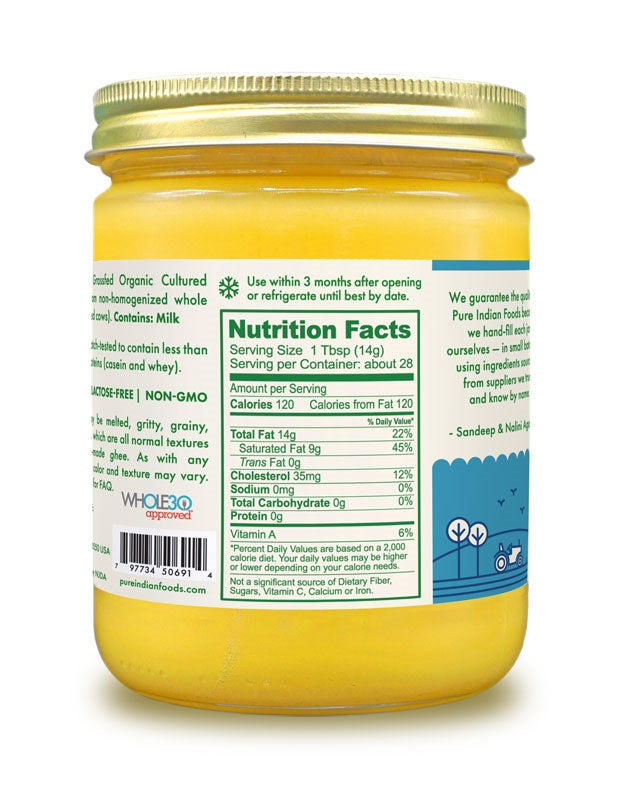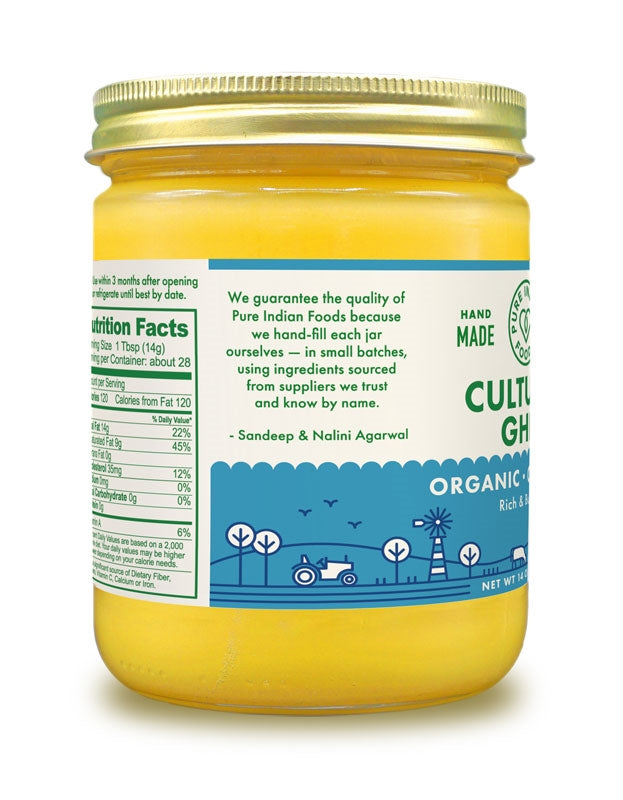 All the wonderful flavors of butter, but with the shelf life and smoke point of cooking oils. Gluten-free, full of healthy fats, and perfect for diets such as Paleo, Keto, and Whole30.
Gluten free. Lactose free. Batch-tested to contain no more 2.5 ppm casein/whey.
5th Generation Still Handmade, Since 1889 Small batch
---
THE BEST OF THE BEST
Grassfed
Made with milk obtained from spring through fall, when the cows are out on pasture eating fresh green grass. [Read more]
Certified Organic
Our milk comes from cows which are never fed anything with GMOs, chemical fertilizers, herbicides, or pesticides. They are never given hormones or antibiotics.
Nourishing
This beautiful, nutrient-dense milk is rich in fat soluble vitamins and naturally occurring Conjugated Linoleic Acid (CLA).
---
Ours is the World's First Grass-fed and Certified Organic Cultured Ghee
Ghee is one of the most sacred and healing foods described by the ancient Ayurvedic texts. It is made by a simple process of gently simmering cultured butter to remove potential allergens such as casein and lactose. What remains is the pure delicious butter oil, described as conferring good health and longevity.
One of the traditional processes of making ghee involves culturing the cream before churning it into butter and then clarifying it into ghee. Pure Indian Foods Grass-fed Organic Cultured Ghee is made by following this age-old and time-honored practice. The result is a delightfully aromatic ghee with a slight tangy flavor characteristic of naturally cultured foods. And as always, Pure Indian Foods ghee is made from milk obtained only during the spring thru fall when the cows are on the pasture eating fresh, green grass.
Pure Indian Foods ghee never contains any artificial ingredients or harmful trans-fats. It has a naturally high smoke point of 485 F, so it won't burn like butter. Use in place of oil or butter for cooking. It's ideal for sautes, stir-fries and sauces and it's delicious on rice, toast, pancakes, scones or biscuits.
---
Difference Between Ghee and Cultured Ghee
Milk contains lactose, a natural sugar which gives it that delicate sweet taste. In order for the body to breakdown lactose into its basic components of simple sugars called glucose and galactose, an enzyme called lactase must be present. Many people lack this valuable enzyme in their digestive system causing a common digestive problem known as lactose intolerance. In order to metabolize lactose, lactase must always be present. During the culturing process of milk or cream, lactose is converted into lactic acid. This makes for a much more digestible product for many people. Remember, generally ghee does not cause a problem with lactose intolerance. This is because during the ghee making process, the lactose is removed even if the butter used to make the ghee was not made from cultured cream.
---
Why Cultured Ghee?
Cultured Ghee has a more buttery taste as a result of fermentation of the cream. Many people prefer the taste and aroma of cultured foods.
Cultured Ghee is batch-tested Gluten-Free. It is also batch-tested to contain no more than 0.25% lactose and 2.5 ppm casein/whey. This testing has not been done for our Ghee.
Our traditional Cultured Ghee recipe has been used for thousands of years. The ancient tradition of Ayurveda considers Cultured Ghee important for strengthening Agni, our powerful digestive fire.
Cultured Ghee is known as Desi Ghee in India, where the word desi means prepared with indigenous method. Please note that this product is not a source of live and active cultures.
This Indian woman is churning yogurt in an earthen pot to make cultured butter. Hand churning is no longer practiced to commercially prepare cultured butter.
---
Customer Testimonials
"All the ghee available on the market have a trace of casein. I don't know what a 'trace' is but in my energetic testing as well as patients' clinical responses, this is just too much casein for dairy-sensitive individuals. Pure Indian Foods has listened and responded with a new organic ghee that is cultured and made in such a way that has absolutely no casein or lactose (i.e., undetectable by the most stringent lab tests). This Cultured Ghee is testing great for even the most sensitive patients now. Thank you so much Pure Indian Foods - we no longer feel deprived and are loving this delicious ghee!"
Dr. Louisa Williams, Author of Radical Medicine
"I am so appreciative of this wonderful product you have created. It meets the needs of those of us wanting to benefit from the nutrient dense value of fully pastured butter but without the casein so many cannot tolerate. This is a truly delicious and unique accomplishment!"
Nora T. Gedgaudas, Author of "Primal Body, Primal Mind"
Lucy is 16 months old, and she loves our cultured ghee. She can eat a spoonful straight! This is an unsolicited video from one of our customers.
View Entire Ghee Playlist on YouTube
Hi! I'm Sandeep.
I travel to India, Asia, South America, and Europe to bring you back some of the most pristine, pure, organic clean ingredients in the world. All the products you'll find here at Pure Indian Foods are ones that me and my family use personally.
My family has been making ghee since 1889. Today, my wife, Nalini (aka "The Ghee Lady"), carries on this tradition. She still makes all the ghee and tightens every jar by hand.

We are passionate about bringing you traditional and nourishing foods. It's our labor of love and service to human-kind. Thank you for supporting our small family business.
Blog posts
Many people ask us "what is the difference between ghee and cultured ghee"? The answer is actually very simple. Ghee is made from milk, and cultured ghee is made from...

Many people ask us "what is the difference between ghee and cultured ghee"? The answer is actually very simple. Ghee is made from milk, and cultured ghee is made from...