Highly-Regarded Alphonso Mangoes ("The King of Mangoes")
4-5 Fresh Mangoes Per Jar
Enjoy straight out of the jar!
High in Vitamin C, Vitamin A, and Antioxidants
No Added Sugar, Preservatives, Colors or Flavors
Packed in Glass
Alphonso mangoes are highly regarded for their rich taste, vibrant color, and smooth, buttery texture. Alphonso mango puree is naturally sweet, so no need to add additional sugar. Use on top of ice-cream; blend with milk or yogurt to make lassies; add to fruit salads, jellies, smoothies, pastries, and cakes. Try in broths & curries.
Can be stored for 5-7 days in the refrigerator after opening. For extended shelf life after opening, you may freeze it.
Country of Origin: India
Regular price
Sale price
$8.99 USD
Unit price
per
Sale
Sold out
Ingredients

Organic Alphonso Mangoes.
Frequently Asked Questions

What is a Best By Date?

A Best By Date is NOT an expiration date. A Best By Date serves as a "suggestion" for when a product will be of best flavor or quality.  It is not a purchase or safety date. We sell products past their Best By date for a minimal discount. This offers you savings on a product which is still safe and usable for a long time. Best By Dates on USDA.gov

Ghee Questions
General Questions
Order Related Questions
Shipping

READ OUR FULL SHIPPING POLICY HERE

CONTINENTAL USA
Orders over $125 qualify for a flat rate of $9.99. This applies to the Continental USA outside of Northeast region. This does not include Alaska or Hawaii.

ONLY NORTHEAST USA
Orders over $75 qualify for a flat rate of $5.99. This applies ONLY to the Northeastern part of the United States, including CT, DE, DC, ME, MD, MA, NH, NJ, NY, PA, RI, VT, VA.


WHAT IS YOUR HANDLING TIME?
Pure Indian Foods orders are processed, shipped, and delivered on business days: Monday-Friday (excluding weekends and major holidays). Please allow 2-4 business days for processing depending on product availability and order volume.

HOW LONG IS TRANSIT TIME
USA: On average, 5-10 business days.
Canada: On average, 6-10 business days, but sometimes longer to get through customs.
International: We do not have an estimated time for other countries.


INTERNATIONAL ORDERS:
International orders outside the USA may attract additional customs, taxes and duties upon entry to your country; this is the responsibility of the customer. If the package is refused by your country's customs department and it it sent back to us, the shipping cost will be non-refundable. Please be aware, there may be delays.

DO YOU OFFER LOCAL PICK UP?
We are online-only.
Return Policy

We want our customers to be satisfied with the quality of our products. If a product is damaged during shipping or you are unhappy with the product, simply let us know within 14 days after delivery, and we will try to resolve the situation to your satisfaction in a way that is fair to both parties. We are a small company and try to do our best for each situation. Please contact us if you have any questions prior to purchasing.

NOT SATISFIED?

If you receive the order and you are not satisfied with it, you can return the merchandise in original packaging within 14 days along with the receipt. Once we receive your package, we will refund the amount charged of the items returned. Unfortunately, we cannot refund the shipping costs, unless the product is damaged or defective.

ORDER REFUSED

If you refuse the order or if the carrier was not able to deliver it, we will give full refund less the shipping charges.

INCORRECT ADDRESS

If the shipping address that you supply is found to be incomplete or incorrect then you are responsible for the additional charges imposed by the shipping company for correcting the address.

RETURNED TO SENDER / UNDELIVERABLE

If we send you a shipment and it gets returned back to us as it was undeliverable to the address provided, we will refund the amount you had paid for the products only. Unfortunately, we cannot refund the shipping cost. We offer the option to reship the same order to an alternative address for an additional shipping fee.
View full details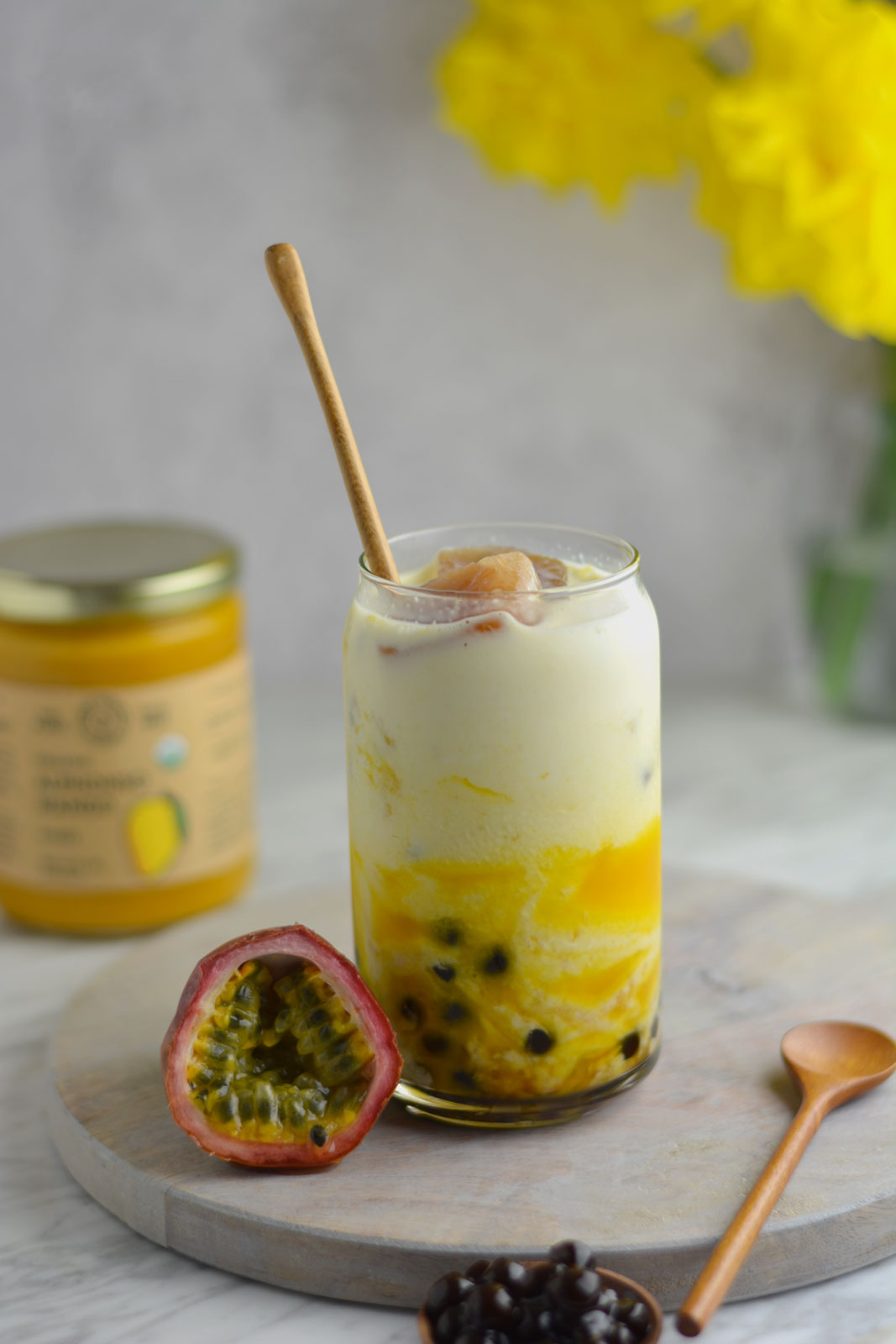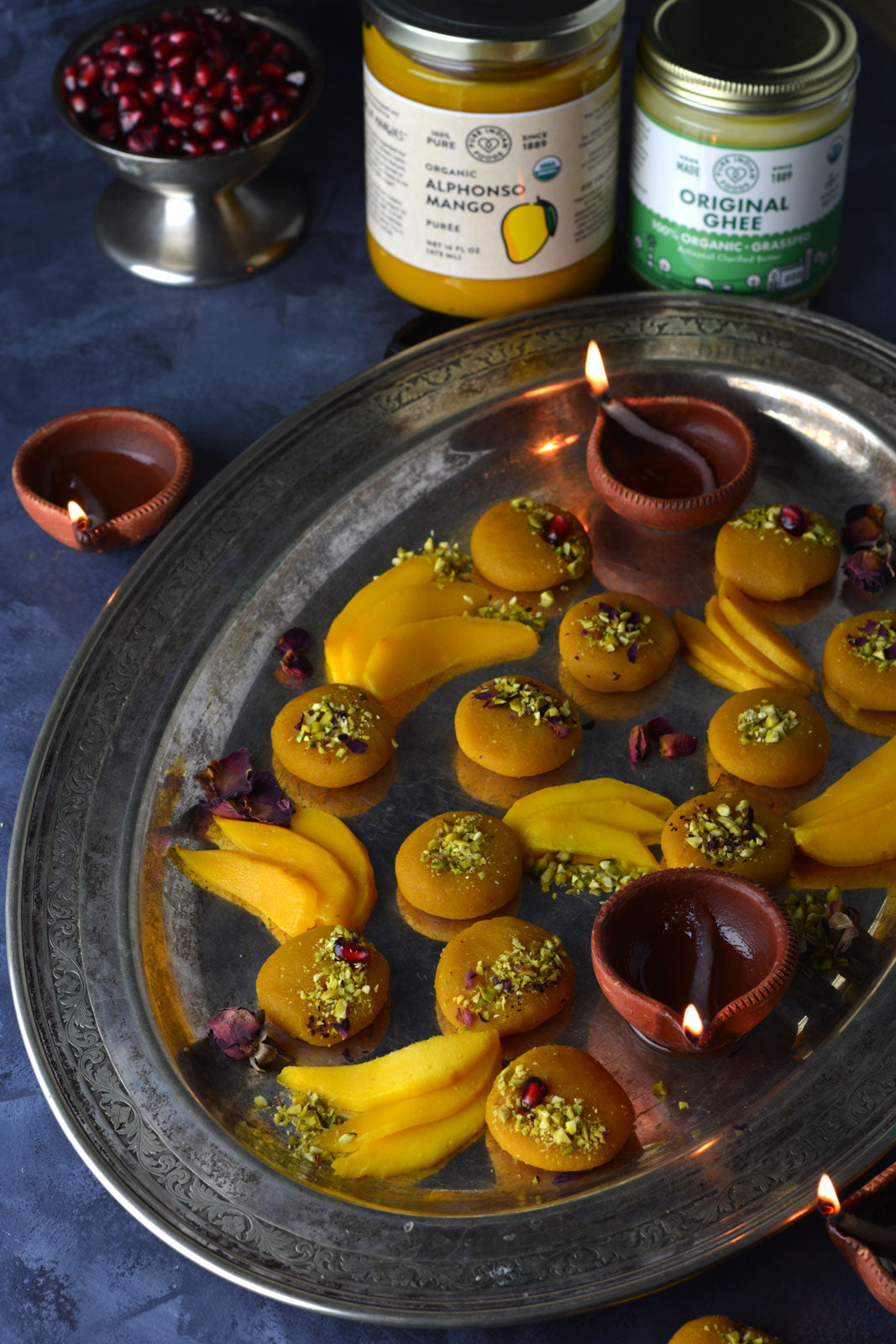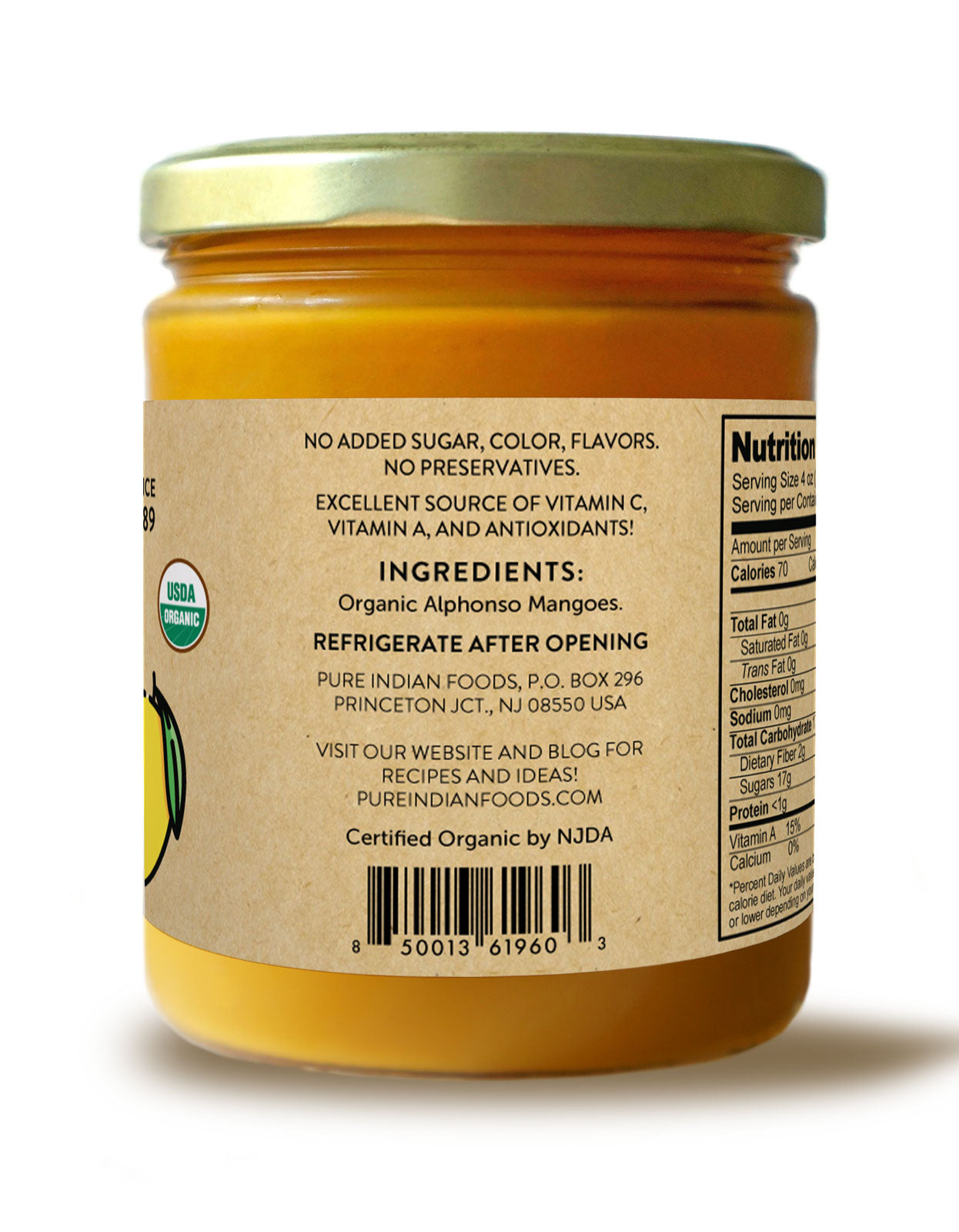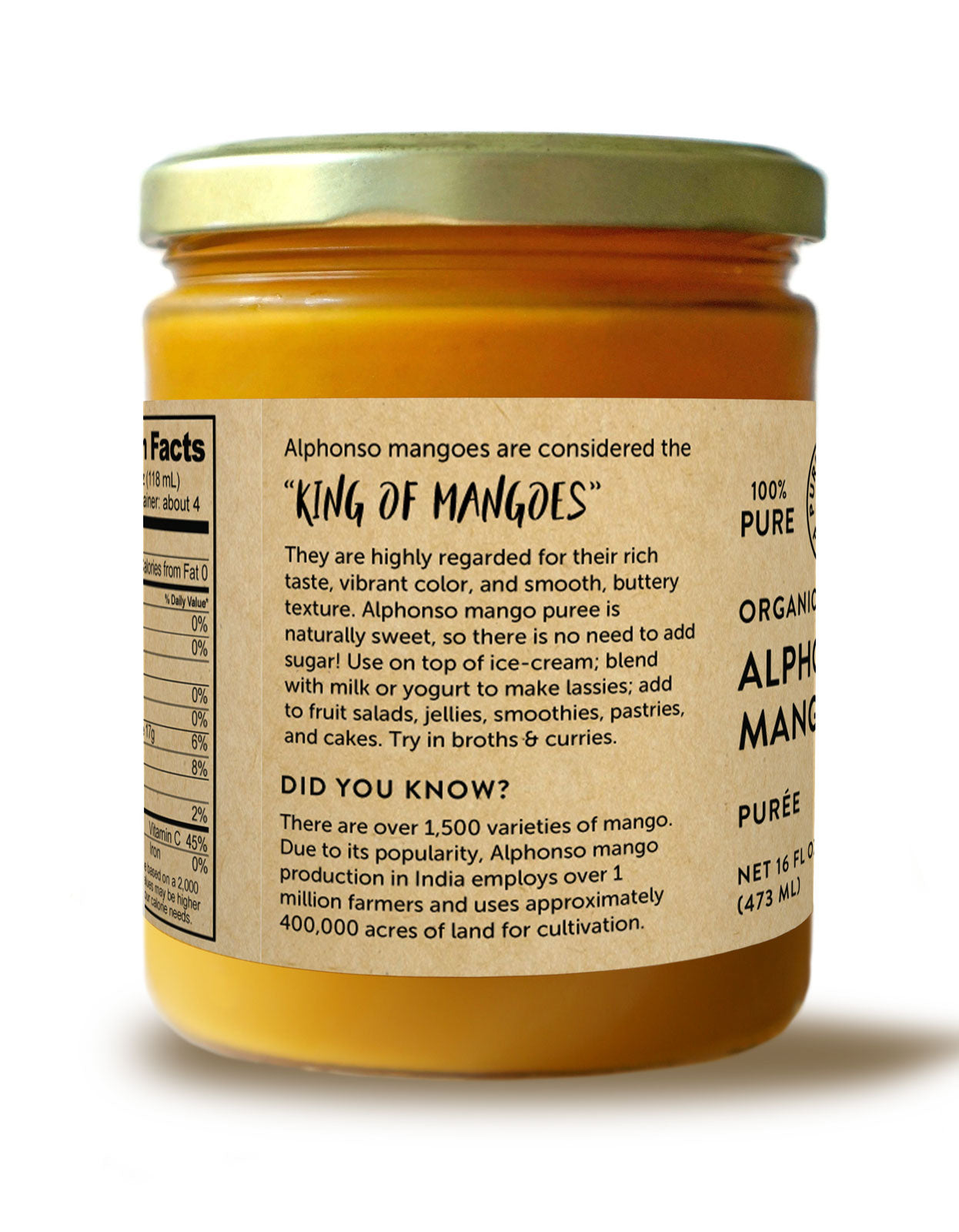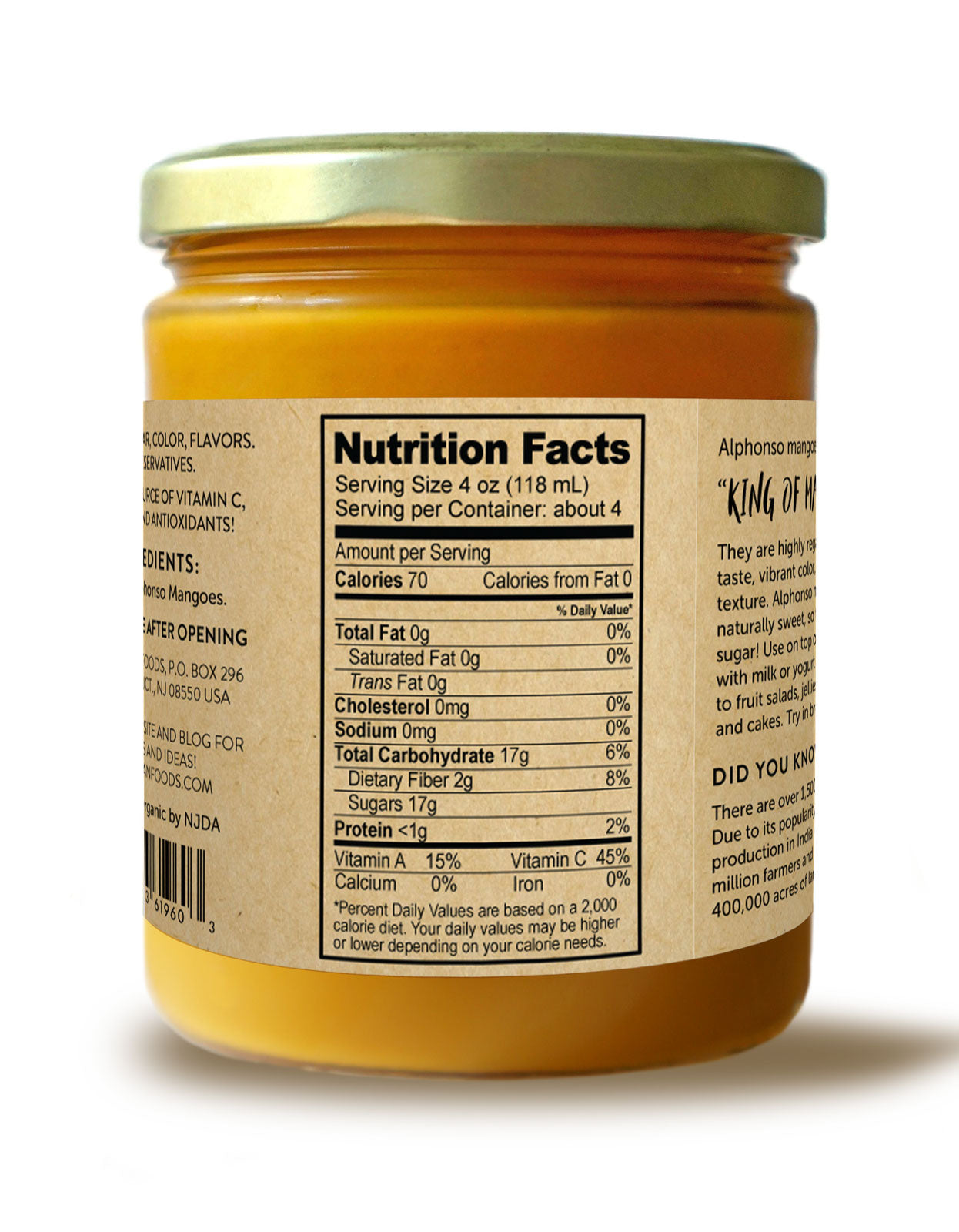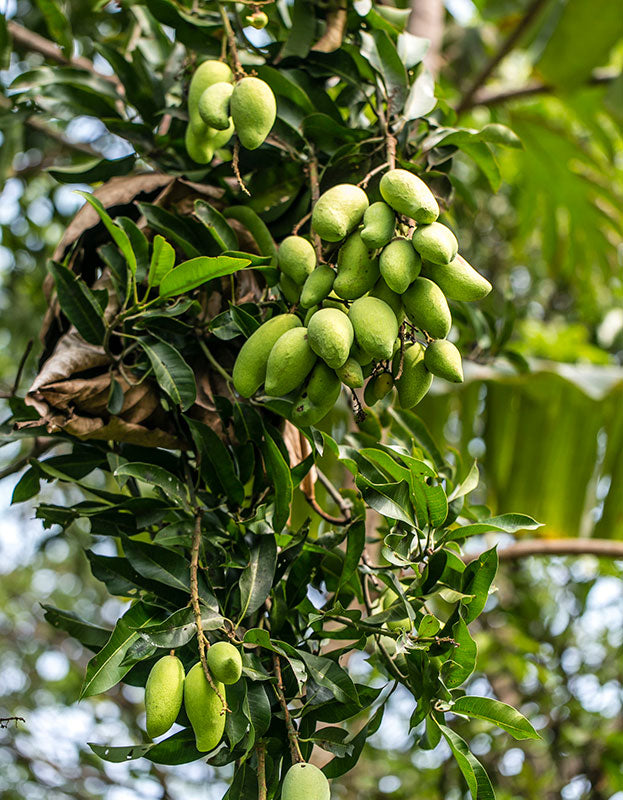 Species: Mangifera indica
Other names: Hapus, King of Mangoes
If you've ever tasted an Alphonso Mango, you'll know why they're a national obsession in India. Smooth and buttery with hints of honey, sweet fruits, melon and citrus, these "King of the Mangoes" rule India during their short eating season. There are several varieties of Alphonso mangoes, many that are showcased by top-rated chefs at mango festivals. Vendors on the street squeeze the fresh juice, home cooks add them to curries and lassi drinks, desserts, sweet treats and pakoras, while others hang out at mango parties dunking puris (Indian fried bread) into cream-thickened Alphonso-Mango puree. Whatever your favorite way is, you'll love our Organic Alphonso Mango Puree for its rich taste, vibrant color and natural sweetness. No need to add sugar; it's perfectly sweet just as it is.
Spoon over ice cream, frozen yogurt or non-dairy frozen dessert
Stir into fruit salads
Add to smoothies
Blend with yogurt, milk or coconut milk to make lassies
Spread over toast, biscuits, muffins and pancakes
Spoon over a piece of cake
Try it in broths and curries
Eat it right out of the jar
In case you're wondering, these luscious mangoes are named for Alphonso de Albuquerque, a nobleman who co-founded a Portuguese colony in India. It was the Portuguese who began grafting mango trees to grow exceptional varieties like these that were eventually introduced to Maharashtra, Gujarat and other regions of South India. Interestingly, this variety of mango has only been successfully grown in India. The climate and soil of India is unmatched, and the mango has failed to grow anywhere else in the world, making it extremely rare to come by in other regions.
Did you know?
There are over 1,500 varieties of mango. Due to its popularity, Alphonso mango production in India employs over 1 million farmers and uses approximately 400,000 acres of land for cultivation.
Alphonso mangoes were banned in the United States from 1989 until 2007 due to political reasons. The ban was eventually lifted when the U.S. made a deal with India the allow the import of mangoes if India allowed the import of Harley-Davidson motorcyles.
---
"India is to mangoes as Bordeaux is to wine...
...There's nothing better than a great Alphonso mango."
~ David Karp, Los Angeles-based fruit expert
"Many times in my life, I've eaten something that is supposedly the prime exemplar of its category—the best banana, the best anchovy, the best burrito—and I've found the quality differential to be subtle; I've learned accordingly to temper my expectations with these kinds of things. But the one time I was able to eat an Alphonso mango, at the diminutive fruit stand at the luxury London department store Harrod's, I was blown away. I remember being amazed that fruit that good could actually exist. The flesh was a deep and uniform marigold color, completely devoid of the stringy fibers that sometimes plague supermarket mangoes. The aroma and taste was not qualitatively different from the mangoes I had known, but intensified manifold, as if the souls of ten mangoes had been concentrated in just one fruit. It was the Platonic ideal of a mango, this Alphonso mango."
~ Myles Karp (
Source
)
Hi! I'm Sandeep.
I travel to India, Asia, South America, and Europe to bring you back some of the most pristine, pure, organic clean ingredients in the world. All the products you'll find here at Pure Indian Foods are ones that me and my family use personally.
My family has been making ghee since 1889. Today, my wife, Nalini (aka "The Ghee Lady"), carries on this tradition. She still makes all the ghee and tightens every jar by hand.

We are passionate about bringing you traditional and nourishing foods. It's our labor of love and service to human-kind. Thank you for supporting our small family business.
Blog posts
Many people ask us "what is the difference between ghee and cultured ghee"? The answer is actually very simple. Ghee is made from milk, and cultured ghee is made from...

Many people ask us "what is the difference between ghee and cultured ghee"? The answer is actually very simple. Ghee is made from milk, and cultured ghee is made from...