26 servings in each packet

Store in refrigerator.


Country of Origin: France




Regular price

Sale price

$13.99 USD

Unit price

per

Sale

Sold out
Frequently Asked Questions

What is a Best By Date?

A Best By Date is NOT an expiration date. A Best By Date serves as a "suggestion" for when a product will be of best flavor or quality.  It is not a purchase or safety date. We sell products past their Best By date for a minimal discount. This offers you savings on a product which is still safe and usable for a long time. Best By Dates on USDA.gov

Ghee Questions
General Questions
Order Related Questions
Shipping

READ OUR FULL SHIPPING POLICY HERE

CONTINENTAL USA
Orders over $125 qualify for a flat rate of $9.99. This applies to the Continental USA outside of Northeast region. This does not include Alaska or Hawaii.

ONLY NORTHEAST USA
Orders over $75 qualify for a flat rate of $5.99. This applies ONLY to the Northeastern part of the United States, including CT, DE, DC, ME, MD, MA, NH, NJ, NY, PA, RI, VT, VA.


WHAT IS YOUR HANDLING TIME?
Pure Indian Foods orders are processed, shipped, and delivered on business days: Monday-Friday (excluding weekends and major holidays). Please allow 2-4 business days for processing depending on product availability and order volume.

HOW LONG IS TRANSIT TIME
USA: On average, 5-10 business days.
Canada: On average, 6-10 business days, but sometimes longer to get through customs.
International: We do not have an estimated time for other countries.


INTERNATIONAL ORDERS:
International orders outside the USA may attract additional customs, taxes and duties upon entry to your country; this is the responsibility of the customer. If the package is refused by your country's customs department and it it sent back to us, the shipping cost will be non-refundable. Please be aware, there may be delays.

DO YOU OFFER LOCAL PICK UP?
We are online-only.
Return Policy

We want our customers to be satisfied with the quality of our products. If a product is damaged during shipping or you are unhappy with the product, simply let us know within 14 days after delivery, and we will try to resolve the situation to your satisfaction in a way that is fair to both parties. We are a small company and try to do our best for each situation. Please contact us if you have any questions prior to purchasing.

NOT SATISFIED?

If you receive the order and you are not satisfied with it, you can return the merchandise in original packaging within 14 days along with the receipt. Once we receive your package, we will refund the amount charged of the items returned. Unfortunately, we cannot refund the shipping costs, unless the product is damaged or defective.

ORDER REFUSED

If you refuse the order or if the carrier was not able to deliver it, we will give full refund less the shipping charges.

INCORRECT ADDRESS

If the shipping address that you supply is found to be incomplete or incorrect then you are responsible for the additional charges imposed by the shipping company for correcting the address.

RETURNED TO SENDER / UNDELIVERABLE

If we send you a shipment and it gets returned back to us as it was undeliverable to the address provided, we will refund the amount you had paid for the products only. Unfortunately, we cannot refund the shipping cost. We offer the option to reship the same order to an alternative address for an additional shipping fee.
View full details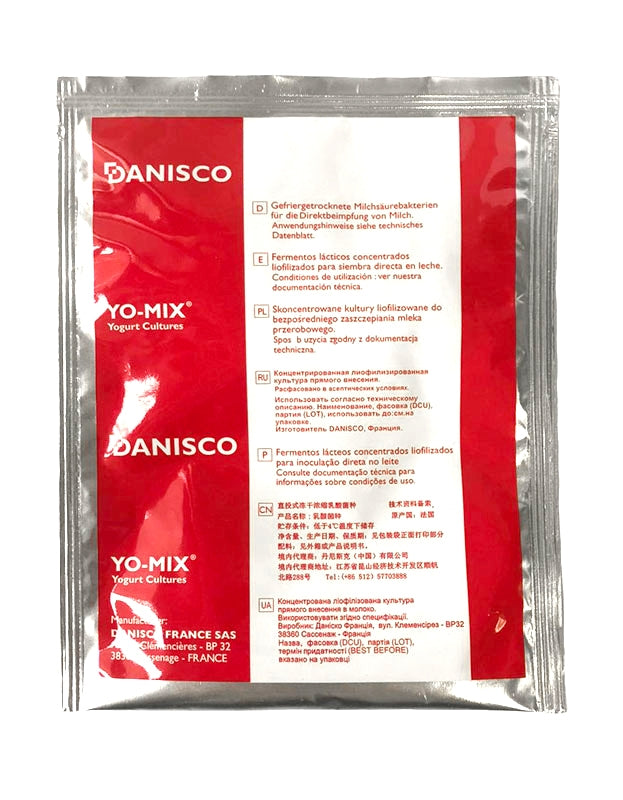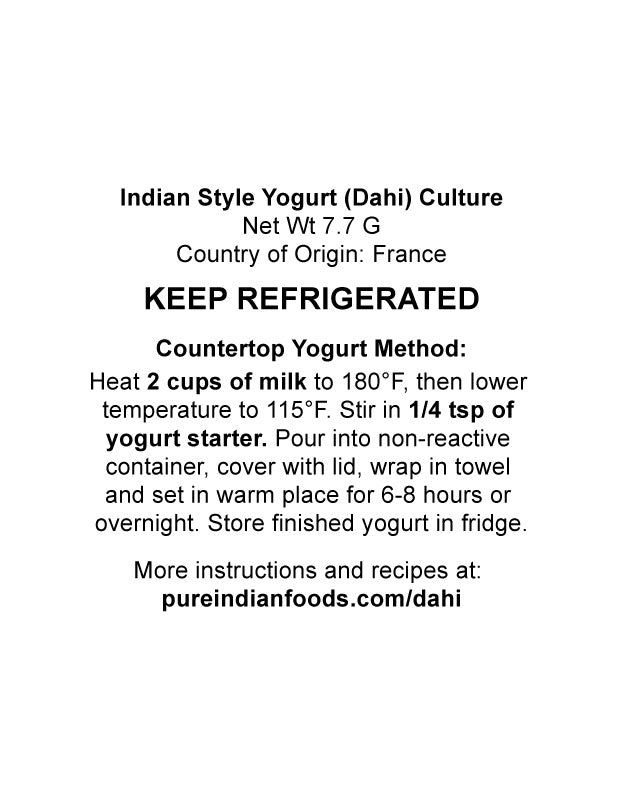 Get that Authentic, Homemade Taste You've Been Missing
YO-MIX™ cultures for dahi are developed with specific and well-defined strain combinations to optimize the synergy between selected strains of lactic acid bacteria, such as Streptococcus thermophilus, Lactobacillus delbrueckii bulgaricus and Lactococcus lactis diacetylactis. The cultures have fast and robust acidification and a real firm and clean cut curd which provides an authentic refreshing dahi taste.
Save Money!
It's certainly cheaper to make your own yogurt at home, but did you know that you can reserve a small amount of yogurt from each batch in order to start another batch? Just use 1 TBSP of a previous batch of yogurt instead of 1/4 tsp of the yogurt starter mix. This way, if you're making consecutive batches of yogurt, you can reserve your starter mix for when you have no yogurt available. Extra yogurt is safe to freeze.
So what does dahi yogurt taste like?
Dahi yogurt is sweeter than more tangy, store-bought plain yogurt. It is more smooth and creamy for a thick yogurt, as well.
Do I have to use an earthen pot?
Nope! You can use any non-reactive container. Non-reactive means it won't change the constitution of the food. Some examples of non-reactive materials include stainless steel, glass, ceramic, or enamel-coated material. Reactive cookware would include copper, aluminum, iron, and steel.
It's a little gooey. What do I do?
Because this is a culture, it's totally okay to experiment. Making yogurt at a higher altitude causes it to set faster and lower altitudes it sets slower. Sometimes temperatures need adjustment based on location as well. Based on what you did before, if it was gooey, it needs a longer setting time, most likely. Experiment with one factor at a time until it's your desired texture.
The age-old tradition of making and eating Indian yogurt dahi is considered an important part of Indian culture and cuisine. Many people in India keep to a strict vegetarian diet which makes dahi especially important as a natural, delicious probiotic food that supports healthy digestion.
Indian dahi is a special form of fermented milk which is similar to yogurt. To make traditional dahi, you would start with an acidic substance like vinegar, lemon juice or even dried red chilies and add to boiled and slightly cooled whole milk which is then allowed to rest, undisturbed for several hours. It forms a thickened, fermented, high-probiotic, delicious and nourishing food that contains "prana" – the Sanskrit word for energy and life-force.
Traditional dahi is naturally and slowly fermented in earthen pots which are ideal for this process. Earthen pots protect the dahi, helping to thicken it and keep it pure, delicate and delicious. Unlike some forms of modern cookware, earthen vessels don't transfer unwanted elements or chemicals into the food. If you don't have an earthen vessel, however, any non-reactive container like glass or stainless steel can work for fermenting dahi. Keeping fresh dahi on hand becomes easy, as a bit of each batch can then be used as a starter for the next batch.
Dahi is enjoyed every day in India where it is highly regarded for its healthy properties. It can be eaten on its own or with a sweetener such as raw honey, organic cane sugar or jaggery. Here are more ideas for enjoying Indian dahi:
Top a bowl of dahi with fresh or dried fruits
Mix with water to make a lassi, a dahi-based beverage made with water, spices, and sometimes fruits and/or sweeteners. Try it with mangoes, cherries, berries or other fruits, natural sugar or honey, or enjoy as a rejuvenating sour drink
Use dahi like sour cream – as a topping for savory dishes or desserts
Add to chopped vegetables such as carrots, celery and cucumber. Don't forget to add spices and fresh herbs like cumin, coriander, salt, pepper, fresh parsley, dill, chives, mint or cilantro
Blend with mayonnaise, herbs and spices to make a probiotic, creamy salad dressing
Serve as a side dish to vegetable and bean soups
Enjoy with a serving of a favorite grain dish such as basmati rice or quinoa
Serve with cooked vegetables such as eggplant, squash and tomatoes
Try a dollop over blueberry pancakes, waffles, hot oatmeal or cream of wheat
What to do with failed yogurt that doesn't set
Many a times it happens that you end up with failed yogurt. You discover that the yogurt has not set at all, and it is just like milk, and you discard the whole thing. Instead of discarding it, you can prepare two Indian milk products from it.
1. Daan-e-daar Khoa (Granular Khoa): Pour the failed yogurt in a saucepan at medium heat and add about 1 tbsp of lemon juice (to 2 cups of failed yogurt) to curdle the milk and continue cooking. Keep stirring the milk and cook until most of the moisture has been evaporated and the milk is reduced to dry lumpy texture. Remove from heat and transfer to a cup and let cool. Once cool, refrigerate it for a hour so that it thickens/hardens. Remove the prepared Khoa from the refrigerator transfer to a zip-lock sandwich bag and freeze to store for future use, or use immediately.
2. Paneer: Pour the failed yogurt in a saucepan at medium heat and add about 1 tbsp of lemon juice (to 2 cups of failed yogurt) to curdle the milk and continue cooking milk for a few minutes until you see the milk has curdled completely. Carefully strain the curdled milk through the sieve lined with the muslin cloth. Let the whey collect in the bottom saucepan. The whey is highly nutritious. Store it to use later on in other curries instead of water (at this stage if you wish, you can experiment and add a few flavors that you like to the curds in the muslin cloth, like dried herbs, etc. Mix the dried herbs well with the curds and continue). Later, lift the edges of the cloth and tie the corners of the cloth into a bag completely enclosing the curds. Remove the sieve from saucepan and place it in the sink. Place the bag of curds back in the sieve. Set aside under a heavy weight for about 3-4 hours to press to a flat shape about 2 cm thick. Later, transfer the Paneer block to a zip-lock packet and store refrigerated. Use within a week.
FAQ
Is your yogurt (dahi) starter shipped in a refrigerated fashion or in ambient temperature? Is it safe outside of the fridge during shipping?
This is a freeze dried culture, and refrigeration is not required. We recommend refrigeration for the purpose of extending the shelf life of the product and to better preserve the culture. We keep the product refrigerated prior to shipping, and we recommend that it be refrigerated after receiving the product. It is shipped unrefrigerated. It will not spoil if left outside or in a mailbox. Simply refrigerate as soon as possible.
Hi! I'm Sandeep.
I travel to India, Asia, South America, and Europe to bring you back some of the most pristine, pure, organic clean ingredients in the world. All the products you'll find here at Pure Indian Foods are ones that me and my family use personally.
My family has been making ghee since 1889. Today, my wife, Nalini (aka "The Ghee Lady"), carries on this tradition. She still makes all the ghee and tightens every jar by hand.

We are passionate about bringing you traditional and nourishing foods. It's our labor of love and service to human-kind. Thank you for supporting our small family business.
Blog posts
Many people ask us "what is the difference between ghee and cultured ghee"? The answer is actually very simple. Ghee is made from milk, and cultured ghee is made from...

Many people ask us "what is the difference between ghee and cultured ghee"? The answer is actually very simple. Ghee is made from milk, and cultured ghee is made from...