Please note: This is a conventional product. In the past, we were able to source Certified Organic, but it is no longer available. Also, due to the summer heat, contents may become sticky inside, which is natural.
"My wife, Nalini, swears there is no raisin that can compare to the Hunza raisin. She compares them to candy, they are so sweet and delicious. This is her favorite raisin from India, and our family is also excited to share it with you."
~ Sandeep, Co-Owner and Co-Founder
This product can be refrigerated or frozen to maintain freshness.
Country of Origin: Uzbekistan
Regular price
Sale price
$8.99 USD
Unit price
per
Sale
Sold out
Nutritional info

Nutrition Facts Serv. Size 1 oz (28g), Servings: About 9 Amount Per Serving: Calories 85, Calories from Fat 0. Total Fat 0.1g (0% DV), Saturated Fat 0g (0%), Cholesterol 0mg (0% DV), Sodium 8mg (0% DV), Total Carb. 22g (7% DV), Dietary Fiber 1g (5% DV), Sugars 18g, Protein 1g. Potassium 4%, Vitamin B6 3%, Calcium 1%, Magnesium 2%. Percent Daily Values (DV) are based on a 2,000 calorie diet.
Frequently Asked Questions

What is a Best By Date?

A Best By Date is NOT an expiration date. A Best By Date serves as a "suggestion" for when a product will be of best flavor or quality.  It is not a purchase or safety date. We sell products past their Best By date for a minimal discount. This offers you savings on a product which is still safe and usable for a long time. Best By Dates on USDA.gov

Ghee Questions
General Questions
Order Related Questions
Shipping

READ OUR FULL SHIPPING POLICY HERE

CONTINENTAL USA
Orders over $125 qualify for a flat rate of $9.99. This applies to the Continental USA outside of Northeast region. This does not include Alaska or Hawaii.

ONLY NORTHEAST USA
Orders over $75 qualify for a flat rate of $5.99. This applies ONLY to the Northeastern part of the United States, including CT, DE, DC, ME, MD, MA, NH, NJ, NY, PA, RI, VT, VA.


WHAT IS YOUR HANDLING TIME?
Pure Indian Foods orders are processed, shipped, and delivered on business days: Monday-Friday (excluding weekends and major holidays). Please allow 2-4 business days for processing depending on product availability and order volume.

HOW LONG IS TRANSIT TIME
USA: On average, 5-10 business days.
Canada: On average, 6-10 business days, but sometimes longer to get through customs.
International: We do not have an estimated time for other countries.


INTERNATIONAL ORDERS:
International orders outside the USA may attract additional customs, taxes and duties upon entry to your country; this is the responsibility of the customer. If the package is refused by your country's customs department and it it sent back to us, the shipping cost will be non-refundable. Please be aware, there may be delays.

DO YOU OFFER LOCAL PICK UP?
We are online-only.
Return Policy

We want our customers to be satisfied with the quality of our products. If a product is damaged during shipping or you are unhappy with the product, simply let us know within 14 days after delivery, and we will try to resolve the situation to your satisfaction in a way that is fair to both parties. We are a small company and try to do our best for each situation. Please contact us if you have any questions prior to purchasing.

NOT SATISFIED?

If you receive the order and you are not satisfied with it, you can return the merchandise in original packaging within 14 days along with the receipt. Once we receive your package, we will refund the amount charged of the items returned. Unfortunately, we cannot refund the shipping costs, unless the product is damaged or defective.

ORDER REFUSED

If you refuse the order or if the carrier was not able to deliver it, we will give full refund less the shipping charges.

INCORRECT ADDRESS

If the shipping address that you supply is found to be incomplete or incorrect then you are responsible for the additional charges imposed by the shipping company for correcting the address.

RETURNED TO SENDER / UNDELIVERABLE

If we send you a shipment and it gets returned back to us as it was undeliverable to the address provided, we will refund the amount you had paid for the products only. Unfortunately, we cannot refund the shipping cost. We offer the option to reship the same order to an alternative address for an additional shipping fee.
View full details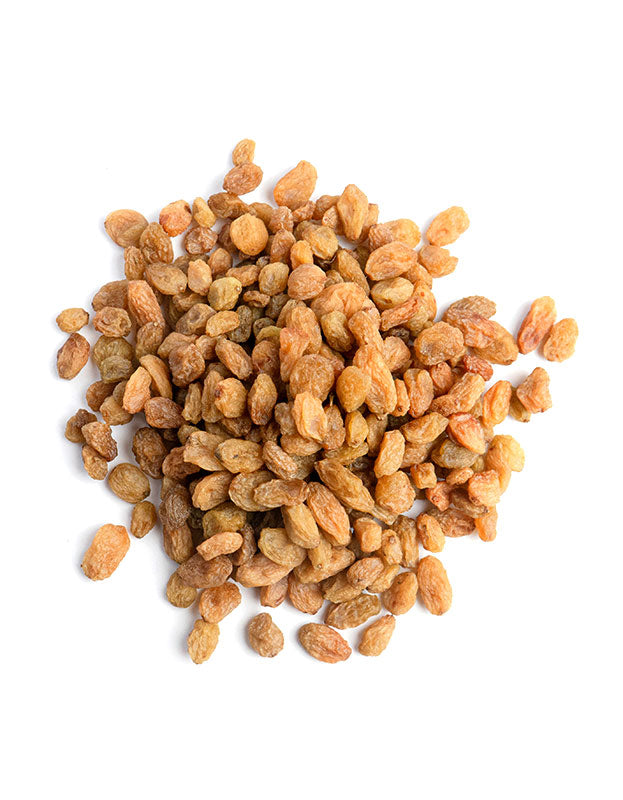 A raisin is a raisin, is a raisin, right? Maybe not so fast!
In the United States the term "raisin" refers to any dried grape other than a currant. A raisin can be either the common dark purple variety or the less common, but equally known golden raisin. Hop on a plane to travel the world and a different story emerges.
The majority of raisins in the US come from commercially grown Thompson green seedless grapes. When naturally dried or sun-dried, they automatically darken, taking on their familiar dark color. The vast majority of golden raisins in the US come from the same green Thompson grapes that are dried in industrial-size dehydrators and typically treated with sulfur dioxide to (unnaturally) preserve their color, texture and shelf-life - not exactly a healthy alternative, especially for those people who are allergic to sulfites.
Outside of the US, most countries differentiate between dark-colored raisins and golden raisins which are known as sultanas. Raisins are classified by the variety of grape being cultivated and how it is processed. Golden raisins, like their darker counterpart come from various types of grapes, some seedless, some not, including Thompson, Sultana and Monukka grapes. Hunza raisins are a wonderful example of gorgeous golden raisins that come from more than one variety of grape.
At Pure Indian Foods, we've selected Hunza raisins that come from sundried Sultana grapes. The grapes are naturally dried in the hot sun which deepens their flavor and concentrates their natural sugars and good nutrition. The result is a naturally amber-gold raisin with a beautiful, pale green hue.
Our Hunza Raisins are incredibly versatile! They are non-GMO, raw and gluten free with NO added sulfites, ever! They add sweet, rich, delicate, fruity flavor to a variety of favorite treats, both sweet and savory, and can be used in place of regular raisins, currants and other dried fruits in just about every recipe. Eat them alone as a delicious snack or try some of these ideas:
Add to favorite hot or cold cereals like oatmeal or overnight oats
Add to trail mix
Toss into leafy green salads – they're delicious paired with bitter greens
Add to cooked grains like rice, couscous or quinoa, or cooked grain salads
Use them to sweeten muffins, cookies, cakes, scones, homemade raisin bread and bars
Add them to a spectacular cheese platter – delicious with creamy brie, roasted mixed nuts and a variety of crunchy crackers
Pair with vegetable or meat curries
Add them to pancakes and waffles
Stir into yogurt
Sprinkle over ice cream
Enjoy a snack with dark chocolate and peanut or almond butter
Turn them into delicately-delicious chutney
Bake them into your favorite granola recipe
WARNING: Consuming this product can expose you to chemicals including lead, which are known to the State of California to cause cancer and birth defects or other reproductive harm. For more information go to https://www.P65Warnings.ca.gov/food.
Hi! I'm Sandeep.
I travel to India, Asia, South America, and Europe to bring you back some of the most pristine, pure, organic clean ingredients in the world. All the products you'll find here at Pure Indian Foods are ones that me and my family use personally.
My family has been making ghee since 1889. Today, my wife, Nalini (aka "The Ghee Lady"), carries on this tradition. She still makes all the ghee and tightens every jar by hand.

We are passionate about bringing you traditional and nourishing foods. It's our labor of love and service to human-kind. Thank you for supporting our small family business.
Blog posts
Many people ask us "what is the difference between ghee and cultured ghee"? The answer is actually very simple. Ghee is made from milk, and cultured ghee is made from...

Many people ask us "what is the difference between ghee and cultured ghee"? The answer is actually very simple. Ghee is made from milk, and cultured ghee is made from...