Country of Origin: India
Regular price
Sale price
$13.78 CAD
Unit price
per
Sale
Sold out
Frequently Asked Questions

What is a Best By Date?

A Best By Date is NOT an expiration date. A Best By Date serves as a "suggestion" for when a product will be of best flavor or quality.  It is not a purchase or safety date. We sell products past their Best By date for a minimal discount. This offers you savings on a product which is still safe and usable for a long time. Best By Dates on USDA.gov

Ghee Questions
General Questions
Order Related Questions
Shipping

READ OUR FULL SHIPPING POLICY HERE

CONTINENTAL USA
Orders over $125 qualify for a flat rate of $9.99. This applies to the Continental USA outside of Northeast region. This does not include Alaska or Hawaii.

ONLY NORTHEAST USA
Orders over $75 qualify for a flat rate of $5.99. This applies ONLY to the Northeastern part of the United States, including CT, DE, DC, ME, MD, MA, NH, NJ, NY, PA, RI, VT, VA.


WHAT IS YOUR HANDLING TIME?
Pure Indian Foods orders are processed, shipped, and delivered on business days: Monday-Friday (excluding weekends and major holidays). Please allow 2-4 business days for processing depending on product availability and order volume.

HOW LONG IS TRANSIT TIME
USA: On average, 5-10 business days.
Canada: On average, 6-10 business days, but sometimes longer to get through customs.
International: We do not have an estimated time for other countries.


INTERNATIONAL ORDERS:
International orders outside the USA may attract additional customs, taxes and duties upon entry to your country; this is the responsibility of the customer. If the package is refused by your country's customs department and it it sent back to us, the shipping cost will be non-refundable. Please be aware, there may be delays.

DO YOU OFFER LOCAL PICK UP?
We are online-only.
Return Policy

We want our customers to be satisfied with the quality of our products. If a product is damaged during shipping or you are unhappy with the product, simply let us know within 14 days after delivery, and we will try to resolve the situation to your satisfaction in a way that is fair to both parties. We are a small company and try to do our best for each situation. Please contact us if you have any questions prior to purchasing.

NOT SATISFIED?

If you receive the order and you are not satisfied with it, you can return the merchandise in original packaging within 14 days along with the receipt. Once we receive your package, we will refund the amount charged of the items returned. Unfortunately, we cannot refund the shipping costs, unless the product is damaged or defective.

ORDER REFUSED

If you refuse the order or if the carrier was not able to deliver it, we will give full refund less the shipping charges.

INCORRECT ADDRESS

If the shipping address that you supply is found to be incomplete or incorrect then you are responsible for the additional charges imposed by the shipping company for correcting the address.

RETURNED TO SENDER / UNDELIVERABLE

If we send you a shipment and it gets returned back to us as it was undeliverable to the address provided, we will refund the amount you had paid for the products only. Unfortunately, we cannot refund the shipping cost. We offer the option to reship the same order to an alternative address for an additional shipping fee.
View full details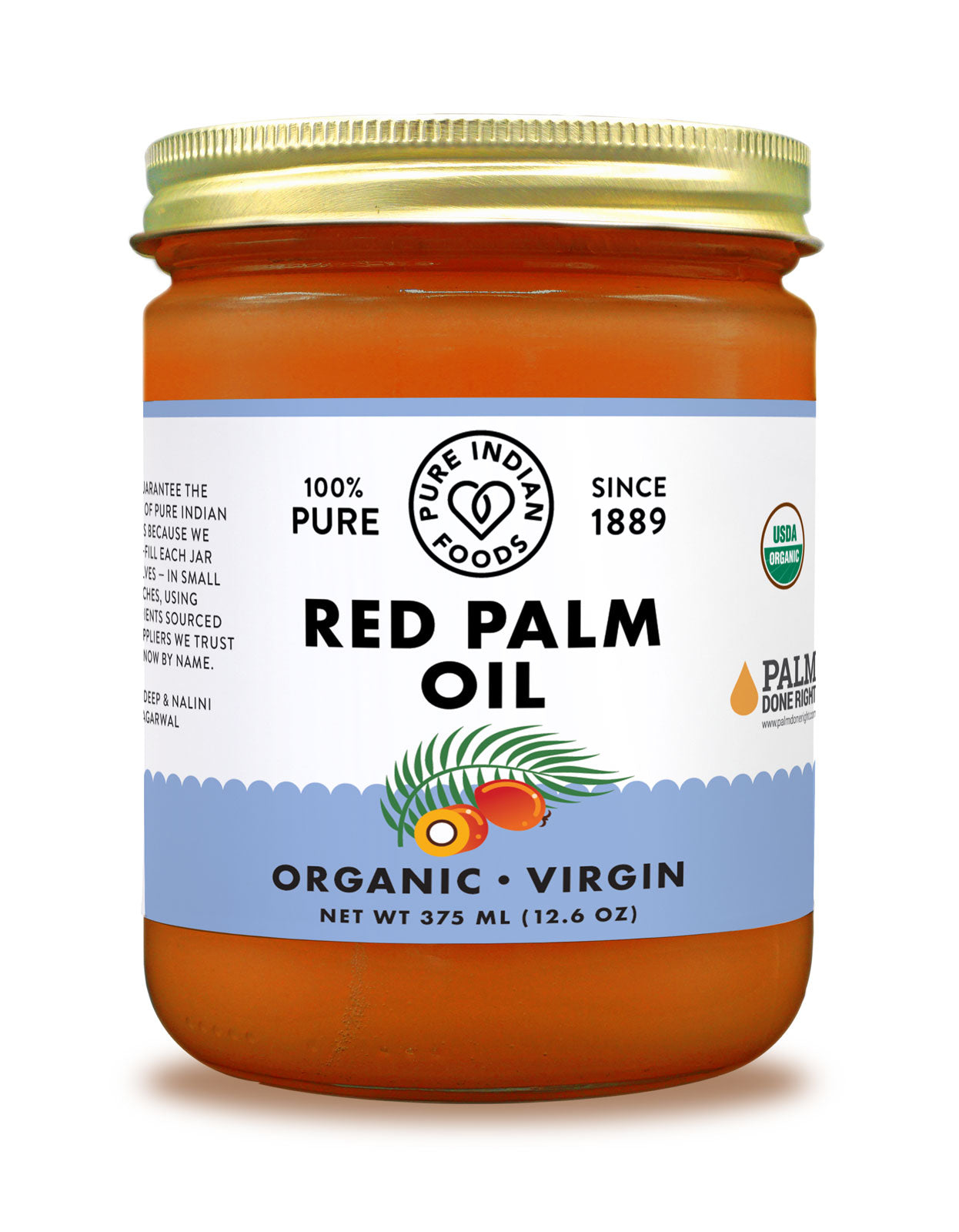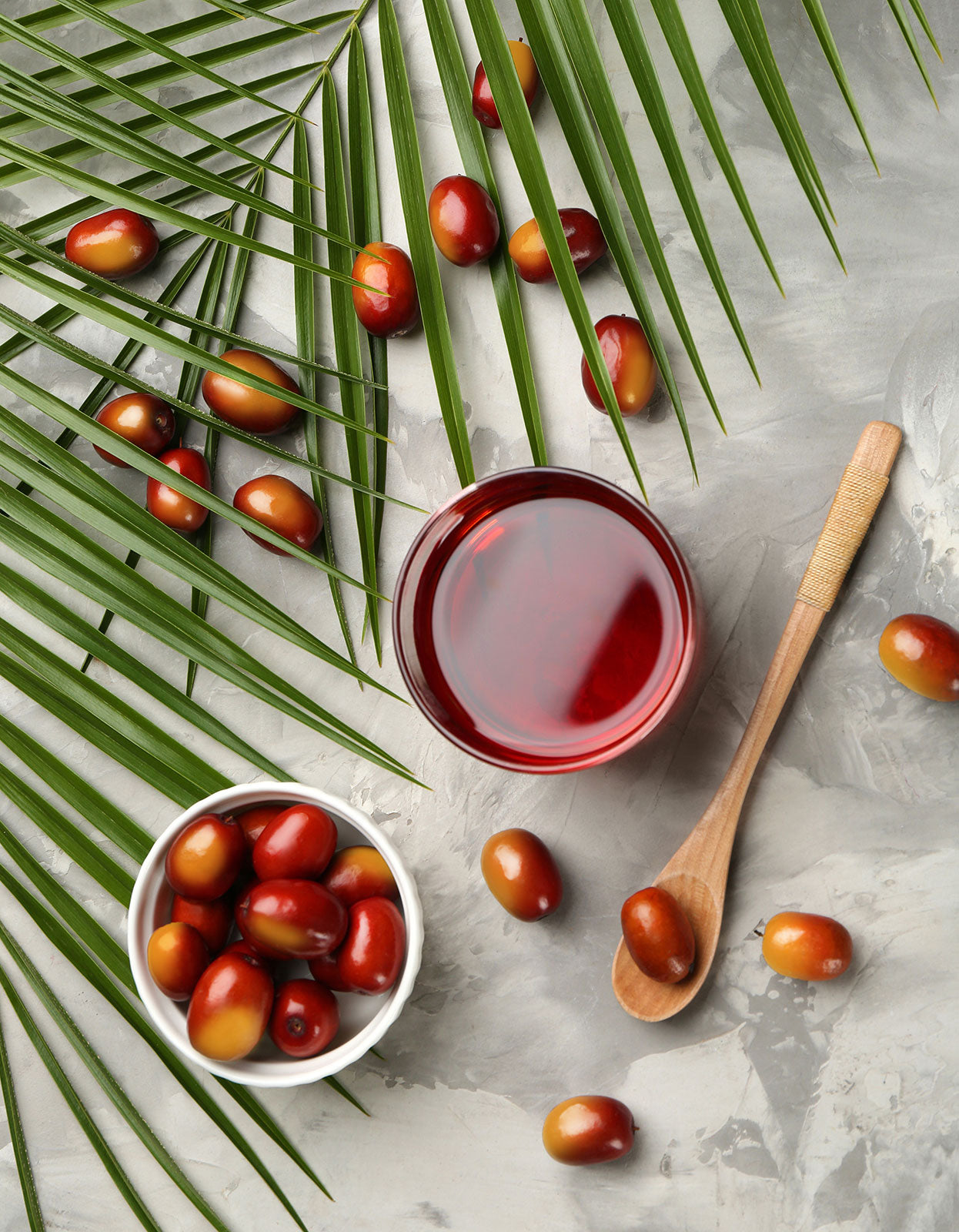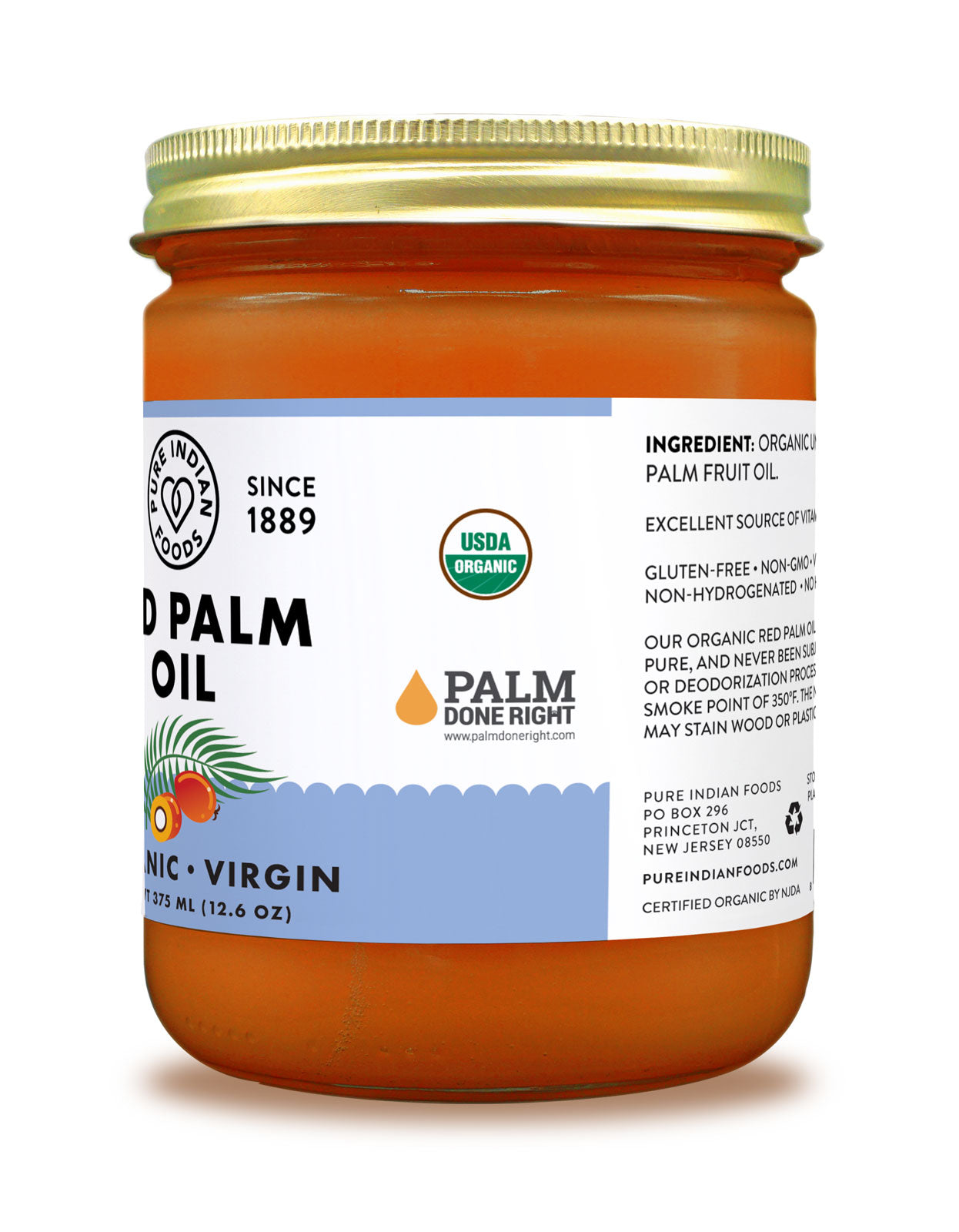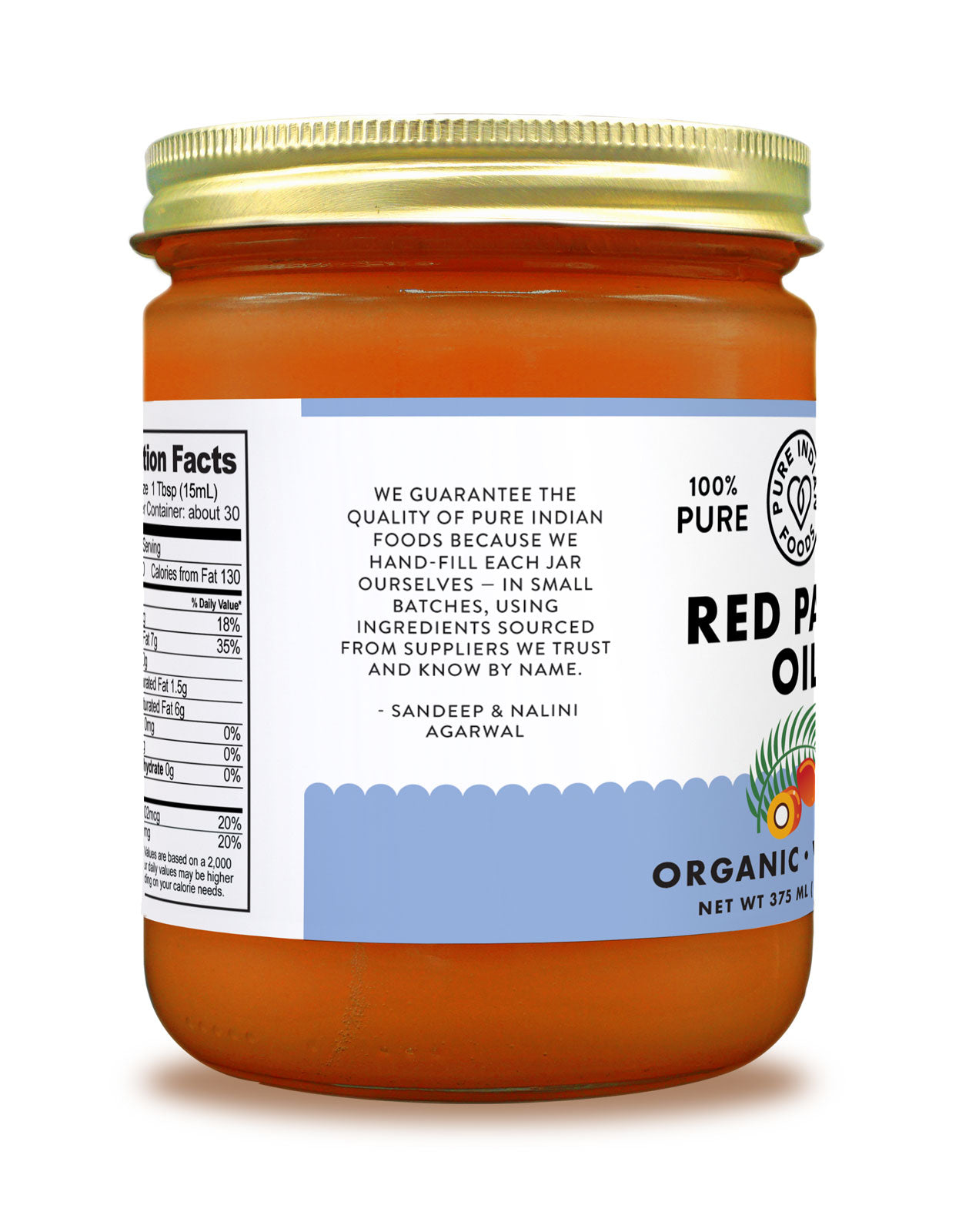 For more than 5,000 years, the rich, deep-red oil from the African Palm has been a treasured staple food for the indigenous people of Central and West Africa, Indonesia and Malaysia. Legend has it that in ancient times, this seemingly miraculous oil was so sacred and its live-giving properties so cherished that it was entombed with the pharaohs in ancient Egypt, ensuring their pleasure and happiness in the afterlife.
Although popular for eons among indigenous people, red palm oil was virtually unknown to the West until just a few decades ago. As science began to uncover the critical role of fatty acids in human health, the demand for quality fats and oils has grown by leaps and bounds. As such, the demand for, and production of red palm oil has significantly increased.
You may be aware that palm oil has been a major player in the deforestation and destruction of some of the Earth's most biodiverse forests, including the natural habitats of already endangered species. Rest assured this is not the case with our red palm oil! It's guaranteed sustainable and certified organic and very importantly displays the "Palm Done Right" promise on the label. This ensures the product is 100% organic, fully traceable, deforestation-free, wildlife friendly, and fair and social. You can read more about Palm Done Right here.
Our wonderful red palm oil is pressed from the seed and fruit of the African Red Palm tree (Elaeis guineensis). It's delightfully rich, buttery and delicious, and it imparts a lovely orange-red tint to foods. Enjoy these ideas:
Add it to rice and other grains.
Bake it into quick breads, muffins and cookies.
Use as you would butter in a recipe.
Add to a variety of dal / legumes.
Add to basting sauces for additional nutrition, flavor and color for meats and fish.
Sauté onions for a delicious, colorful treat. Spoon over salads, grains, cooked vegetables and meats.
Coat nuts in red palm oil, pink salt and your choice of spices. Roast until done to your liking.
Add a dollop to yams or sweet potatoes, or coat raw sweet potato fries with oil and spices. Roast or air-fry until tender.
Coat chicken breast in spices, salt and pepper. Pan-sear both sides in red palm oil. Serve over a leafy green salad or make chicken salad with good quality mayonnaise.
Roast zucchini, yellow squash, bell peppers and spices in red palm oil. Add your favorite cheese, cooked pasta and/or protein of choice – meat, poultry, shrimp, legumes, tofu, etc.
Blend red palm oil with coconut oil, coconut ghee or butter to make delicious, tender pie crust, perfect for desserts and quiche.
Sauté vegetables and meats in red palm oil for soups, stews and casseroles.
Red palm oil can be used topically, too:
Use it as a great massage oil.
Apply to the face and body to lock in moisture and soften skin.
Massage your scalp.
Rub it into fingernail beds and cuticles.
Soften hard, cracked skin on feet.
Add to a favorite Multani Mitti recipe for a wonderful, relaxing face mask.
Hi! I'm Sandeep.
I travel to India, Asia, South America, and Europe to bring you back some of the most pristine, pure, organic clean ingredients in the world. All the products you'll find here at Pure Indian Foods are ones that me and my family use personally.
My family has been making ghee since 1889. Today, my wife, Nalini (aka "The Ghee Lady"), carries on this tradition. She still makes all the ghee and tightens every jar by hand.

We are passionate about bringing you traditional and nourishing foods. It's our labor of love and service to human-kind. Thank you for supporting our small family business.
Blog posts
Many people ask us "what is the difference between ghee and cultured ghee"? The answer is actually very simple. Ghee is made from milk, and cultured ghee is made from...

Many people ask us "what is the difference between ghee and cultured ghee"? The answer is actually very simple. Ghee is made from milk, and cultured ghee is made from...