Fresh, organic bitter melon is almost impossible to find, as it is extremely susceptible to disease and pests. Conventional bitter melon often tests with amounts of pesticide exceeding legal limits. These pesticides are very difficult to remove by washing due to the bumpy, grooved exterior of the gourd. This is why we are happy to offer you this organic dried version, which is free of pesticides and shelf-stable.
Our bitter melon is dried using a dehydrator. It is not sun-dried, which would make it very dark in color. Extremely low heat is used during the entire process. The temperature is kept below 104°F at all times. This ensures that delicate nutrients are preserved.
Country of Origin: India
Regular price
Sale price
$6.83 CAD
Unit price
per
Sale
Sold out
Frequently Asked Questions

What is a Best By Date?

A Best By Date is NOT an expiration date. A Best By Date serves as a "suggestion" for when a product will be of best flavor or quality.  It is not a purchase or safety date. We sell products past their Best By date for a minimal discount. This offers you savings on a product which is still safe and usable for a long time. Best By Dates on USDA.gov

Ghee Questions
General Questions
Order Related Questions
Shipping

READ OUR FULL SHIPPING POLICY HERE

CONTINENTAL USA
Orders over $125 qualify for a flat rate of $9.99. This applies to the Continental USA outside of Northeast region. This does not include Alaska or Hawaii.

ONLY NORTHEAST USA
Orders over $75 qualify for a flat rate of $5.99. This applies ONLY to the Northeastern part of the United States, including CT, DE, DC, ME, MD, MA, NH, NJ, NY, PA, RI, VT, VA.


WHAT IS YOUR HANDLING TIME?
Pure Indian Foods orders are processed, shipped, and delivered on business days: Monday-Friday (excluding weekends and major holidays). Please allow 2-4 business days for processing depending on product availability and order volume.

HOW LONG IS TRANSIT TIME
USA: On average, 5-10 business days.
Canada: On average, 6-10 business days, but sometimes longer to get through customs.
International: We do not have an estimated time for other countries.


INTERNATIONAL ORDERS:
International orders outside the USA may attract additional customs, taxes and duties upon entry to your country; this is the responsibility of the customer. If the package is refused by your country's customs department and it it sent back to us, the shipping cost will be non-refundable. Please be aware, there may be delays.

DO YOU OFFER LOCAL PICK UP?
We are online-only.
Return Policy

We want our customers to be satisfied with the quality of our products. If a product is damaged during shipping or you are unhappy with the product, simply let us know within 14 days after delivery, and we will try to resolve the situation to your satisfaction in a way that is fair to both parties. We are a small company and try to do our best for each situation. Please contact us if you have any questions prior to purchasing.

NOT SATISFIED?

If you receive the order and you are not satisfied with it, you can return the merchandise in original packaging within 14 days along with the receipt. Once we receive your package, we will refund the amount charged of the items returned. Unfortunately, we cannot refund the shipping costs, unless the product is damaged or defective.

ORDER REFUSED

If you refuse the order or if the carrier was not able to deliver it, we will give full refund less the shipping charges.

INCORRECT ADDRESS

If the shipping address that you supply is found to be incomplete or incorrect then you are responsible for the additional charges imposed by the shipping company for correcting the address.

RETURNED TO SENDER / UNDELIVERABLE

If we send you a shipment and it gets returned back to us as it was undeliverable to the address provided, we will refund the amount you had paid for the products only. Unfortunately, we cannot refund the shipping cost. We offer the option to reship the same order to an alternative address for an additional shipping fee.
View full details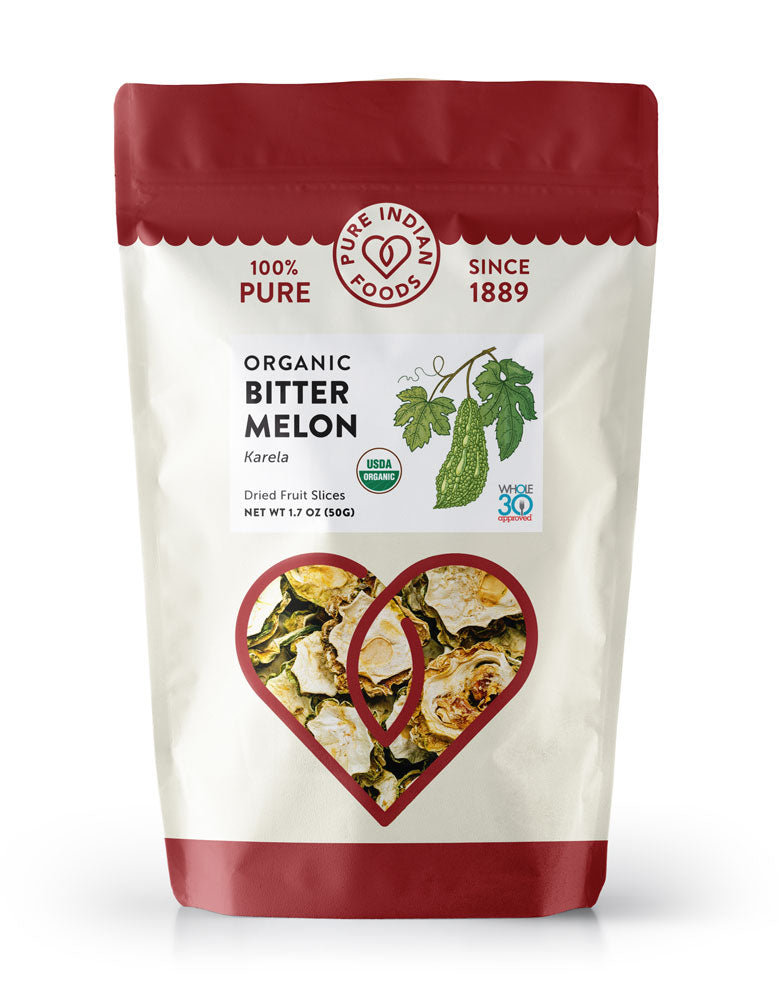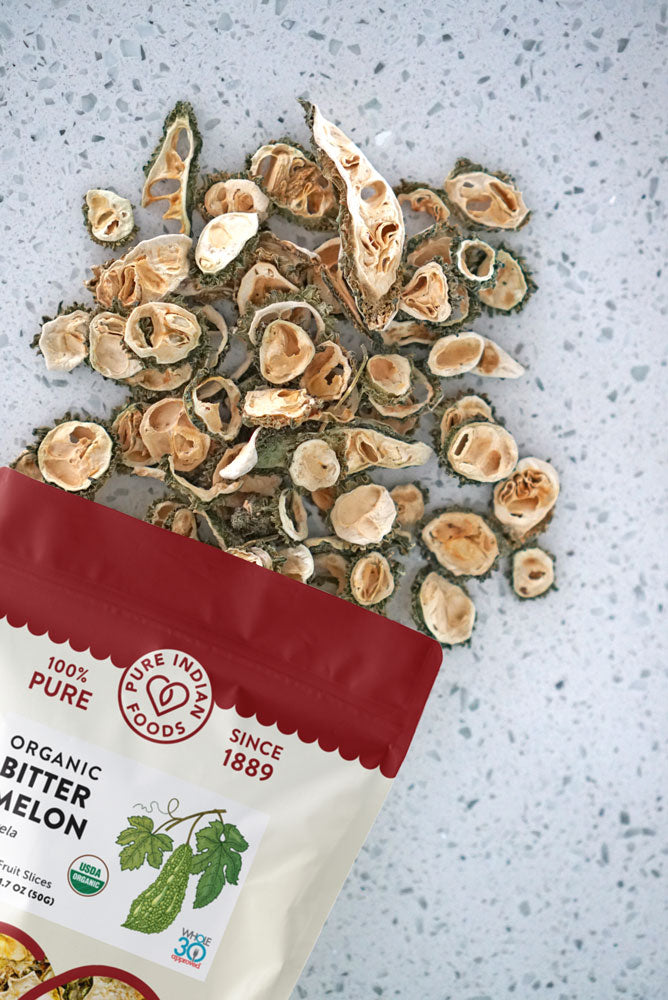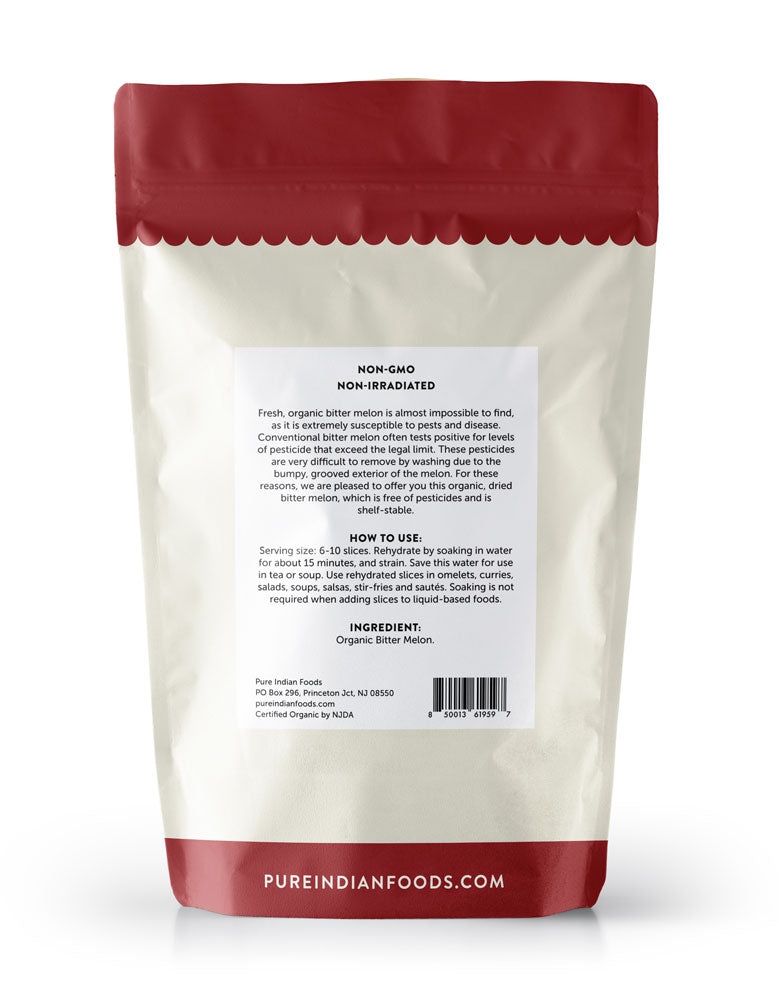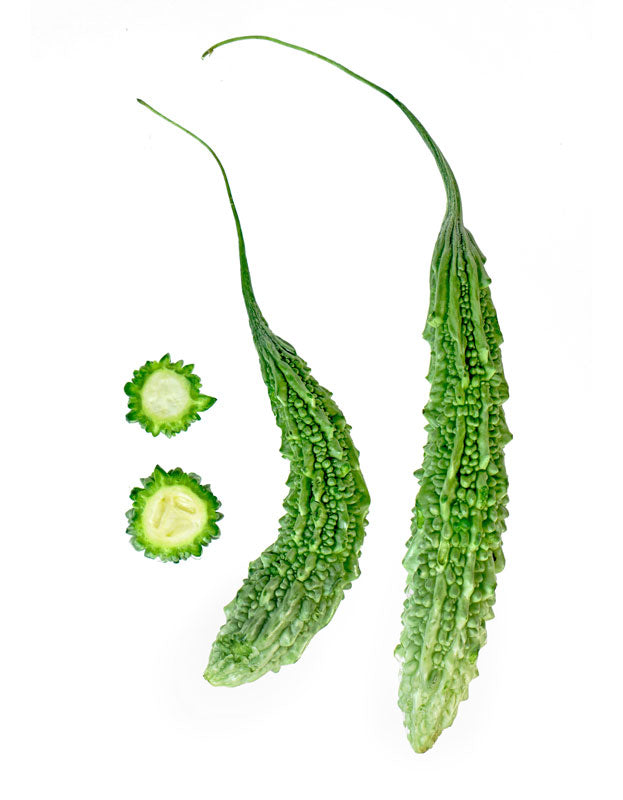 Species: Momordica charantia

Other names: karela, bitter apple, bitter gourd, bitter squash, balsam-pear, pavakka, kaipakka, asosi, kakara, karola, sopropo, khổ qua.

Appearance: Fresh bitter melon is light to dark green in color with a bumpy, warty exterior. Chinese bitter melon is more smooth and yellow-green, whereas Indian bitter melon is more bumpy and darker green.

Typically used: Sliced or cored and stuffed

Origin: Southeast Asia; There are actually two types of bitter melon; The Chinese kind is long, light green, and more smooth with blunted ends. The smaller, darker green variety (which we are using for this product), is more firm with a more warty exterior, and it found in India, Cambodia, Thailand, and the Philippines.

Flavor: Extremely bitter and dry

Culinary uses: Bitter melon is widely used in Indian and Southeast Asian cuisine, where it is balanced with sweet, spicy, and savory flavors. Add a few slices to broth, soups, stews, & curries to include bitters in your diet without overwhelming bitter taste.

Fresh bitter melon is often cored and stuffed with spiced, minced meat. Also, blanching with salt water can help remove bitterness. At Asian markets, the fresh shoots and leaves are also sold for adding to stir fries or soups.

How to Use Dried Slices:
Serving size: 6-10 slices. Boil the slices in ~3 cups (700mL) of water for 10 minutes. Save the water for tea, and sweeten to taste. Use rehydrated slices in omelets, frittatas, scrambled eggs, curries, salads, soups, salsas, stir-fries and sautés.
Other Ideas
Our Organic Bitter Melon slices can be used just as you would fresh bitter melon. It's non-GMO, non-irradiated and is always 100% pure and of the best quality. Here are some ways to enjoy our dried, sliced bitter melon:
Reconstitute in hot water or broth for 10-15 minutes; drain and use for omelets, frittatas, scrambled eggs, curries, salads, soups, salsas, stir-fries and sautés.
Add a tablespoon or two to soups and stews, simmering until done.
Fry dried bitter melon in melted ghee or coconut oil until browned and crispy. Season with jaggery, salt, and/or chili or other spices.
Many people enjoy this for a crunchy snack
Add a few slices to a jar of pickling/cultured vegetables such as cucumbers, carrots, cabbage and onions
Try a couple of minced, rehydrated slices in a bowl of steaming hot miso soup along with grated carrots, chopped scallions, cubed tofu and dried sea vegetables such as nori or wakame
Mince a bit of rehydrated bitter melon; add to guacamole, onion, bean or other dip or hummus
Make bitter melon tea as described above; mix with favorite juices such as pomegranate, cranberry, grape, apple and more. Serve cold for a refreshing summer beverage
Hi! I'm Sandeep.
I travel to India, Asia, South America, and Europe to bring you back some of the most pristine, pure, organic clean ingredients in the world. All the products you'll find here at Pure Indian Foods are ones that me and my family use personally.
My family has been making ghee since 1889. Today, my wife, Nalini (aka "The Ghee Lady"), carries on this tradition. She still makes all the ghee and tightens every jar by hand.

We are passionate about bringing you traditional and nourishing foods. It's our labor of love and service to human-kind. Thank you for supporting our small family business.
Blog posts
Many people ask us "what is the difference between ghee and cultured ghee"? The answer is actually very simple. Ghee is made from milk, and cultured ghee is made from...

Many people ask us "what is the difference between ghee and cultured ghee"? The answer is actually very simple. Ghee is made from milk, and cultured ghee is made from...